Antarctic luxury cruise vessel heading for Ushuaia after suffering engine failure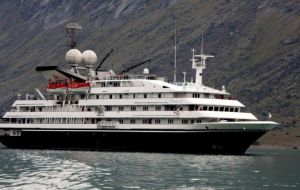 A Maltese-flagged cruise ship with 160 people on board which on Tuesday declared an emergency as it was sailing across the Drake Passage off the southern tip of South America is limping back to Ushuaia, its port of destination, according to a release from the Argentine Navy.
"The Clelia II is returning to Ushuaia and is being aided by another cruise vessel NG Explorer", said the Argentine Navy. She is battling winds of 90 kilometres, but the situation "is under control".
The vessel was on its way back from Antarctica when one of the engines failed "causing serious propulsion problems and limitations in her manoeuvrability. However the crew managed to make contact with another tourist vessel, the NG Explorer, which immediately relayed the distress call.
The Argentine navy's Rescue Coordination Centre reported that the Chilean vessel ATF Lautaro, which is fulfilling tasks as a member of the Antarctica Combined Naval Patrol, was dispatched to the area to aid the cruise ship.
However, the head of operations for the Southern Naval Area, Lt. Cmdr. Lucio Lopez, told radio stations in Ushuaia that since the Chilean ship "is located 18 hours from the Clelia II, for the moment the main support tasks are being carried out by the Explorer."
Lopez confirmed that the vessel was sailing to Ushuaia, the southernmost city in Argentina, from which it had departed on Nov. 30.
The Clelia II is 88.1 meters long and is operated by the Navalia SRL company.
Celia II was refurbished into a luxury cruise in 2009 for its Antarctica and Arctic tours and has 50 suites, all looking out to the sea. The ten day cruise to Antarctica costs in the range of 8.000 to 15.000 US dollars.
Drake Passage, which is the stretch of ocean that separates South America from Antarctica, is 808 kilometres wide and its waters are considered to be among the roughest in the world.