IMF criticizes Europe's disjointed response to the Euro debt crisis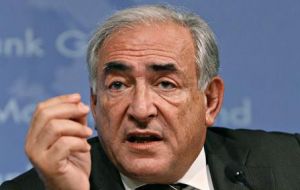 The head of the International Monetary Fund criticized Europe's disjointed response to the Euro zone debt crisis after Germany and other states resisted his calls for bolder action.
IMF Managing Director Dominique Strauss-Kahn failed to persuade finance ministers of the 16-nation single currency area to increase the size of their financial safety net or the European Central Bank to step up government bond purchases.
"The Euro zone has to provide a comprehensive solution to this problem," Strauss-Kahn said after meeting Greek Prime Minister George Papandreou in Athens. "The piecemeal approach, one country after another, is not a good one".
Tension persisted on European bond markets after Euro zone ministers said they would take no new measures to tackle the risk of contagion spreading from Greece and Ireland, which have got EU/IMF bailouts, to Portugal and perhaps Spain and Italy.
Some central bankers and market participants say it would have been better to have put Portugal protectively under the EU/IMF financial umbrella last week at the same time as Ireland rather than dealing with one troubled country after another.
EU finance ministers did agree on Tuesday to conduct a new round of more rigorous bank stress tests in February after just seven out of 91 European banks failed a first examination last July of their ability to withstand financial shocks.
EU Monetary Affairs Commissioner Olli Rehn said the health check would assess the risk of a bank struggling to get credit or savers withdrawing deposits and not just how it would cope with a severe economic downturn or a possible sovereign default.
"One of the lessons learned is that we have to have a liquidity assessment in these stress tests next time around," Rehn told a news conference.