Madrid's position on Gibraltar territorial waters "lacks legal basis" says former ambassador
Wednesday, December 8th 2010 - 16:47 UTC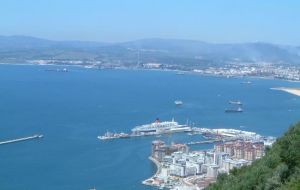 A retired Spanish diplomat has sparked controversy after circulating a number of opinion articles that contradicted the official Spanish position on key issues including Gibraltar.
The diplomat wrote in clear, unequivocal terms that the traditional Spanish position on the issue of Gibraltar's territorial waters was "weak" and "lacks any legal basis".
Jose Antonio de Yturriaga, who held ambassadorial posts in Iraq, Ireland and Russia, sent the articles to the Association of Diplomats for the benefit of its members, which include most serving Spanish diplomats.
But the move drew the ire of the Spanish Ministry for Foreign Affairs, which pressured the association to withdraw the distribution.
The move to censor the material upset Sr Yturriaga, who has now posted the reports on his blog: http://opinionesdejay.blogspot.com/
His position on the issue of Gibraltar waters – an article he wrote following this summer's clashes at sea – was that Spain was wrong to say Gibraltar had no territorial waters.
He said that there were various reports within the Asesoría Jurídica Internacional of the Ministry for Foreign Affairs – of which he was head for some time – that made clear there was no legal basis for the Spanish position.
"The Ministry, however, has not dared to change its position and has maintained it, albeit with a low profile," he wrote.
In the article, the retried diplomat explored possible avenues for a long term solution to the Gibraltar question and said Spain and the UK should intensify discussions to that end, perhaps under the 'two flags, three voices' formula.
But on the specific issue of the waters, he said Spain should reconsider its position and recognise that Gibraltar had a right to territorial sea. The exact scope of the waters would have to be negotiated under the terms of UNCLOS.
He said such a move would bolster friendly cross-border relations and strengthen cooperation on issues such as law enforcement and navigational safety. He also warned that to constantly put forward the traditional, and legally unjustifiable, Spanish position on the waters could ultimately be prejudicial to Spanish interests. (Gibraltar Chronicle).