US and Israel criticize Mercosur members' recognition of the state of Palestine
Wednesday, December 8th 2010 - 05:10 UTC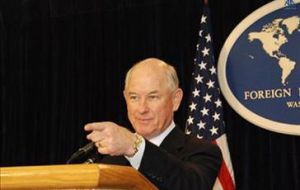 United States disapproved of the recognition of a Palestine state from the part of several Latin American countries, saying that direct negotiations between Israelis and Palestinians are still "the only way" to reach peace in the Middle East.
"We do not look favourably upon this line of conduct," said Philip Crowley, spokesman for the Department of State. "We believe that any unilateral action is counterproductive."
Argentina recognized an independent Palestine state on Monday and Brazil made similar declarations on Friday, referring to the frontiers from 1967, before Israeli occupation. This includes all Palestine territory: The Gaza Strip, the West Bank, and East Jerusalem.
Uruguay announced its decision to follow suit with an announcement in 2011. Argentina, Brazil, Paraguay and Uruguay are founding and full members of Mercosur the South American trade block.
Israel rejected the initiative, saying that they contradicted peace talks and Israeli-Palestinian agreements (Oslo, 1993).
If the negotiations between Israel and Palestine remain on hold, the Palestinians will look to petition for recognition from Washington of the Palestinian state with the 1967 outlined frontiers, taking that demand to the Security Council and the General Assembly of the United Nations.
Earlier in the day Israeli Foreign Ministry officials expressed outrage at Argentina's announcement that it recognizes a Palestinian state within the pre-1967 war borders, saying it is counterproductive to the Middle East peace process.
Argentine Foreign Minister Hector Timerman on Monday quoted a letter written by President Cristina Fernandez to Palestinian leader Mahmoud Abbas, in which she informed him of her government's decision to recognize Palestine as "a free and independent state" within the 1967 borders.
The decision is based on a "deep desire to see an advance in the negotiation process (between Israel and the Palestinians) leading to the establishment of a just peace in the Middle East" said Timerman.
Israeli Foreign Ministry spokesman Yigal Palmor described Argentina's announcement as "highly damaging and regrettable," saying it "shattered the foundation of the peace process," according to the Ha'aretz newspaper.
The Israeli official said the recognition stampede while peace negotiations are ongoing is "contrary to the existing legal framework of the peace process," adding that it will not change the existing situation or promote reconciliation between the feuding parties.
Another Foreign Ministry official on Tuesday noted the declarations "constitute a breach of an intermediate agreement signed by Israel and the Palestinian National Authority (PNA) in 1995, which determines that the status of the West Bank can only be determined through negotiations."