Foreign Secretary lays out policy to help Commonwealth achieve its potential
Thursday, December 9th 2010 - 15:21 UTC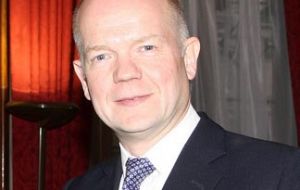 British Foreign Secretary William Hague laid a statement in Parliament on how the UK plans to reinvigorate the Commonwealth with a vision to strengthen the Commonwealth as "a focus for promoting democratic values and development".
The Foreign and Commonwealth Office will lead a co-ordinated cross Whitehall approach to help the Commonwealth achieve its potential and which underlines the UK commitment to this unique global organisation, underlined Hague.
"Our relationship with the Commonwealth has been primarily based on its history, values and common bonds. But the modern Commonwealth, including countries that were never British colonies, has been transformed. Today's Commonwealth bridges all of the continents, embraces almost two billion people, and represents all of the world's major faiths. Its membership includes many of the fastest growing and increasingly technologically advanced economies in the world. These are the great markets of today and tomorrow. Equally important is the forum it provides for numerous smaller nations which may feel that their voice is lost in the wider United Nations structure and who find the more informal Commonwealth setting an ideal place to be heard.
"The Commonwealth of the 21st century should stand for democracy, development, and human rights, and act as a recognised force for good on the issues of our times. It could also be used much more effectively to further the United Kingdom's foreign policy priorities and worldwide economic interests. The United Kingdom is already at the heart of this ready made network, which fits perfectly into the new global environment. In the words of the Head of the Commonwealth, Her Majesty the Queen, the Commonwealth is indeed 'the face of the future'. It is a future in which the United Kingdom will play a full part.
"To achieve this, the Foreign and Commonwealth Office will work closely with Whitehall partners to:
• define and develop ways in which the modern Commonwealth can add value to the delivery of United Kingdom policy goals and act as a global soft power network.
• use the Commonwealth to develop trade and investment opportunities for the United Kingdom and to promote intra-Commonwealth trade.
• support Commonwealth development programmes and bilateral assistance in Commonwealth countries.
• reform, strengthen and renew the Commonwealth structures and purposes through the Eminent Persons Group, the Commonwealth Ministerial Action Group reform process, and in concert with key partners ahead of the Commonwealth Heads of Government Meeting in 2011.
• focus Commonwealth activity where it has strengths and conclude activity where others are better placed and better resourced.
• strengthen the Commonwealth through expanded membership and partner and observer agreements.
• work with the Commonwealth Secretariat better to demonstrate the benefits of membership to the public in Commonwealth nations
• use the Commonwealth in other international institutions (e.g. the United Nations, the Group of 20) where we can develop common foreign policy aims.
• connect with the "internal Commonwealth", the many United Kingdom communities with close ties to Commonwealth countries, to the benefit of social cohesion within British society".