Moody's rates Uruguay just below 'investment grade' but next step 'distant'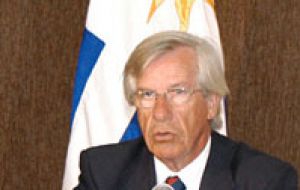 Moody's Investors risk Service raised the sovereign foreign currency credit rating for Mercosur member Uruguay by two notches to Ba1 from Ba3 on Wednesday, leaving it just below investment grade, citing improved debt and fiscal indicators.
"Uruguay's ratings are underpinned by lower susceptibility to event risk that reflects reduced economic and financial exposure to regional shocks, particularly those originating in Argentina," Mauro Leos, sovereign credit analyst at Moody's said in a statement.
The rating refers to foreign and domestic currency (Uruguayan Peso) debt and both have been described as "stable". Uruguay lost its investment grade in 2002 during the worst financial crisis in recent history, a 'neighbourly' spill-over from the Argentine default.
Moody's decision is based on a healthy credit profile with a debt structure characterized by moderate financing, less vulnerability to economic and financial shocks in a context of macro-economic stability and a significant reduction in GDP/debt ratio.
The average maturing of Uruguayan debt exceeds 12 years and the government faces a financing low risk, since less than 5% of the debt falls due in the 2011/2015 period, adds Moody.
Furthermore since 90% of financial commitments have fixed low interest rates, exposure in the events of international interest rate shocks is also low. But the continuity of policies and predictability remain as crucial elements of Uruguay's rating.
During the administration of President Jose Mujica there have been no deviations to policies that for almost a decade have promoted and consolidated macroeconomic stability and fiscal responsibility, adds the Moody report.
However preserving the current tendencies is necessary but insufficient to guarantee additional rating increase, points out the release.
To this respect Moody's will analyze the diversification of the Uruguayan economic base, reduction of government debt in foreign currency and the abidance of fiscal targets by the administration.
"Uruguay will have to show significant and additional improvements before further hikes of its rating are considered and we believe this will not occur in the short term", warned Leos.
Moody's thus joins other agencies that have upgrades Uruguay's sovereign debt: Standard & Poor's last September and Fitch Ratings last July.
The Uruguayan government received the news with enthusiasm and is optimistic about reaching investment grade in a near future.
"I'm sure we are going to recover investment grade in a short term. I hope that from now on and before a year we will be enjoying investment grade if nothing strange happens", said Uruguay's Vice-president and former Economy minister Danilo Astori.
He hoped that Moody's move is "imitated by other risk rating agencies that are beginning to act with a more fair spirit towards Uruguay, since markets had already improved Uruguay's ratings".
The Uruguayan economy expanded 10.4% in the second quarter of 2010 compared to the previous year and 9.6% in the first half of 2010.
The administration of President Mujica estimates a GDP expansion of 6.5%, well above the 2.9% of 2009. However private analysts believe Uruguay's final expansion in the twelve months will be closer to 8.4%.
Moody's forecast is 7.2% in 2010 and 5.5% in 2011. Inflation will reach 6.5% and 5.5% next year, both in the target range of the Uruguayan government.
The US dollar will be trading at 19.5 pesos by the end of 2011 and in the range of 20 pesos at the end of December 2010.
Per capita GDP income in 2010 is estimated at 12.040 US dollars rising to 13.240 by the end of 2011.