Unasur members will share and disclose data on military expenditure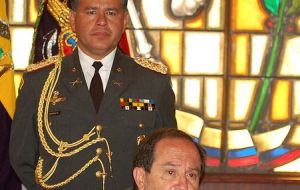 For the first time ever South American countries will jointly share and disclose data on their military expenditures, according to the Ecuadorian Ministry of Defence. It is anticipated that next March all member countries from Unasur (Union of South American Nations) will make public the information following on this year's approval of a common methodology to measure Defence expenditure.
"What is really important is to begin showing countries' willingness first to share the information and then be ready to make adjustments to defence outlays" said Javier Ponce, Ecuador Defence minister, who just stepped down as head of the Unasur Defence Council.
However, "no premature illusions, we are in no way in conditions to limit countries purchases of military equipment, but for that we must continue working", said Ponce.
Theoretically all countries send their defence expenditure information to the United Nations, but not all comply, said Ecuadorian officials who added that the UN methodology "does not adapt to the different types of defence expenditure in the region".
The information from the different Unasur members, based on categories created by the organization will be published in the Defence Council website according to the Ecuadorian officials.
Minister Ponce underlined that countries in the region can't act under "a conflict hypothesis" since that is the only thing that could lead us to an arms' race, if we begin comparing defence capacities of countries and their neighbours".
What must be increased is operational capability, said Ponce.
To that respect Ponce revealed that Ecuador's Armed Forces had a 30% operational capability in 2008 and aspire to reach 75% by 2014 or 2015.
The minister also disclosed that Ecuadorian investment in war procurement since 2008 has been 800 million US dollars and for 2011 is estimated in 250 million.
Until last November 26, Ponce was head of the Unasur Defence Council because Ecuador held the pro-tempore presidency of the group, which since the recent Georgetown summit has been passed on to Guyana.
The current president of the Defence Council is Peru since Guyana admitted not to have the manpower and resources capacity to preside over all Unasur ministerial committees.