Whaling and non-whaling countries call for restrain ahead of new hunting season
Tuesday, December 14th 2010 - 06:38 UTC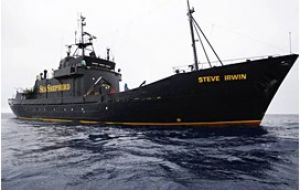 Four countries, Australia, New Zealand, the Netherlands and United States have jointly expressed concern over confrontations between Japanese whaling ships and anti-whaling activists in Antarctic waters and called for responsible behavior by the two sides.
''We are deeply concerned that confrontations in the Southern Ocean will eventually lead to injury or loss of life among both whaling crews and protesters, many of whom are nationals of our countries,'' they said in a joint statement issued over the weekend.
''We call on the masters of all vessels involved in these actions in the Southern Ocean to take responsibility for ensuring that the safety of human life at sea is their highest priority,'' they said.
The statement was issued after two vessels of the anti-whaling Sea Shepherd Conservation Society left Australia on December 2 to protest against and disrupt Japanese whaling activities in Antarctic waters, ahead of the of the new hunting season.
Sea Shepherd's flagship vessel the Steve Irwin, accompanied by the Bob Barker, left from a wharf in Hobart, the capital of Tasmania. They are expected to arrive in the Antarctic Ocean in three weeks.
''We are deeply concerned that an incident in this remote region could end tragically. The collision between an anti-whaling vessel and a Japanese vessel on 6 January 2010 demonstrated clearly the dangers involved,'' the statement said, referring to the collision between the Sea Shepherd's stealth powerboat, the Ady Gil, and a security vessel from the Japanese whaling fleet.
The four countries also said they oppose whaling stating, ''We remain resolute in our opposition to whaling in the Southern Ocean Whale Sanctuary, established by the International Whaling Commission, and are disappointed at the recent departure of the Japanese whaling fleet for the Southern Ocean.''
Japan halted commercial whaling in 1986 in line with an international moratorium, but has hunted whales since 1987 for what it calls ''scientific research'' purposes. It argues that whaling is a cultural tradition that has been practiced by the Japanese for centuries, so they have an inherent right to continue it.
"Scientific research" also means the sale of whale meat in Japanese and Korean markets where it is considered a delicacy.
''Australia, the Netherlands, New Zealand and the United States remain committed to the global moratorium on commercial whaling and meaningful reform of the International Whaling Commission,'' the statement underlined.