Irish parliament approves multi-billon Euro EU/IMF bailout package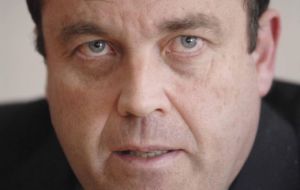 Ireland's parliament on Wednesday approved (81 to 75) a multi-billion Euro EU/IMF bailout package in the face of opposition threats to renegotiate the deal to force losses on some senior bondholders in Irish banks.
Finance Minister Brian Lenihan pushed through the 85 billion Euro package with the support of independent MPs and told the centre-right Fine Gael party that its proposals to lean on senior bondholders would fail because of opposition from the European Central Bank.
"Those who think we can unilaterally renege on senior bondholders against the wishes of the ECB are living in fantasy land," he said.
Under the EU/IMF deal, Irish people face years of cutbacks and tax increases in return for fresh capital to shore up the banks, preserving full repayment of their senior bonds -those first in line to be repaid in the event of any default.
But Fine Gael, which will likely lead a coalition government following an election next year, said investors who hold bank senior debt not covered by a government guarantee, amounting to around 15 billion Euros, should take a share of losses, so lessening the amount that Ireland had to borrow.
"You have the obscene situation now where the poorest of the poor in Ireland, through their taxes and welfare cuts, are being asked to guarantee the speculation of investors in hedge funds," Michael Noonan, Fine Gael's finance spokesman, and a possible future finance minister, said.
"Ireland has no moral or legal obligation to cover this debt. That's why it's a bad deal, that's one of the principal reasons we're going to vote against it, and that's why it has to be renegotiated."