Trade among Mercosur members forecasted to reach 42 billion USD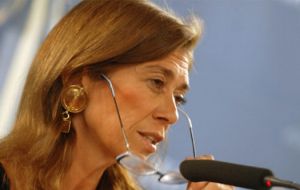 Trade between the four member Mercosur block is expected to reach 42 billion US dollars in 2010 revealed Argentine Industry minister Debora Giorgi who on Thursday will be participating of the Mercosur summit in Foz de Iguazu, Brazil.
"This year has been transcendental for the consolidation of Mercosur and commerce between member nations will close (2010) at about 42 billion, which exceeds the record posted in 2008 and represents 30% more than in 2009" said Ms Giorgi.
Giorgi said manufactured goods represent about 70% of intra-Mercosur trade.
Total exports of the block made up of Argentina, Brazil, Paraguay and Uruguay, to the rest of the world are estimated in 230 billion US dollars.
"We expect total Mercosur exports to the rest of the world to reach 230 billion US dollars which represents a 24% increase over 2009 and a return to 2008 levels", said Ms Giorgi.