Lula da Silva named "Gays' Father Christmas" because "you're a good guy"
Friday, December 17th 2010 - 00:04 UTC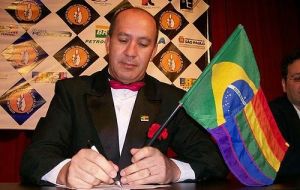 Brazilian president Lula da Silva was named "Gays' Father Christmas" by the country's Lesbians, Gays, Bisexuals, Travesties and Transsexuals (ABGLT) organization during a meeting of social groupings at the Planalto Palace (Government House) in Brasilia
"You're a hero, you're a good guy. You have a white beard your are gays' Father Christmas", said Antonio Luiz Martins dos Reis ABGLT president who recalled that this month the Brazilian government decreed that homosexual couples can present an only income tax statement.
Dos Reis took advantage of the meeting to invite Lula da Silva to participate next year at the second march against homophobia and gave the president a flag with the traditional rainbow colours.
In his speech Lula da Silva thanked the social movements and organizations for their "support and solidarity during difficult moments" and anticipated that now as a "simple citizen" they can count with him to fight for their rights.
"But, --underlined the outgoing leader--, never ask me to talk against the president, because I won't nor am I going to speak out against any of the ministers who are my friends", said Lula da Silva.
This week also the Brazilian government created a National council to combat homophobia.