Brazilian exports set to increase 12% in 2011 reaching 220 billion US dollars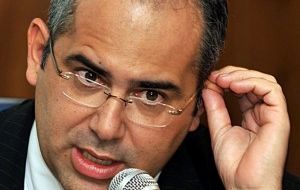 Following the 30% expansion in 2010, Brazilian exports are forecasted to grow 12%, in 2011 according to Foreign Trade Secretary Weber Barral. He added that in 2010 the recovery was quite strong compared to the downturn of 2009, but in 2011 global trade growth rate is expected to slow down.
Nevertheless, "Brazilian exports are expected to continue advancing at a higher rate that the world average; we are targeting 12% against 9% for the rest of the world", said Barral.
If forecasts come true Brazilian exports in 2011 should reach 220 billion USD in 2011, above the 198 billion US dollars 2008 record that should be matched this year since with two weeks left, sales overseas total 192.5 billion USD.
Barral said that since world exports are forecasted to grow 19% this year, the Brazilian share of global trade should increase from the current 1.26% to 1.3% this year. However "2011 promises to be a difficult year, with tough competition we have a duty to advance in the access of markets", said Barral.
The Brazilian official said the was hopeful that next year trade agreements with the European Union and Mexico could advance significantly, but also underlined that many times a sanitary agreement can have "better results than a trade agreement" strictly speaking.
Barral also mentioned the importance of Argentina for Brazilian foreign trade, rapidly becoming the second partner, ahead of the United States and only behind China.
The official admitted that Brazilian foreign trade needs to correct some domestic issues before putting all the blame on the "foreign exchange" difficulty which has sustainedly appreciated the Brazilian currency. "Before blaming others and asking for more protectionist measures, we must look for our mistakes".
Even with a sustained increase in imports which in 2010 will accumulate a 42% expansion, Barral estimates the trade surplus to reach 16 billion USD in 2011, similar to that of this year.
However the current account deficit in November, 4.7 billion US dollars was the largest historically for the month. The previous record dates back to November 2009 with a deficit of 3.3 billion USD. The accumulated for the year adds to 43.5 billion US dollars compared to 18.4 billion in the same period of 2009.