Five world's biggest airlines come from Asia and Latin America, says IATA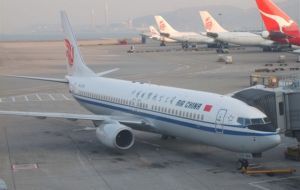 The world's five biggest airlines now come from Asia and Latin America, highlighting the industry's shift away from the US and Europe to higher-growth countries, according to recent reports from the International Air Transport Association, IATA.
Air China is twice the size of either Delta in the U.S. or Germany's Lufthansa. But despite emerging markets' strength and a broad earnings rebound this year, weak economic conditions in Europe and low margins are acting as a drag on profits, the group warned.
"The world is changing in aviation, and it's changing very, very quickly," IATA Chief Executive Giovanni Bisignani said in Geneva. "Rapidly developing markets are shifting the industry's centre of gravity to the East."
Air China has a market capitalization of 20 billion USD, followed by Singapore airlines with 14 billion and Hong Kong-based Cathay Pacific with 12 billion.
China Southern has a market cap of 11 billion, as does LATAM, the Latin American airline recently created from the merger of Chile's LAN and TAM of Brazil. U.S. carrier Delta and Germany's Lufthansa follow with market capitalizations of 10 billion each.
IATA said strong growth in developing countries and a rebound in North America are largely responsible for the industry's recovery this year. Airlines will see net profits of 15.1 billion in 2010, IATA said. This marks a massive turnaround from the 10 billion industry loss in 2009 and 16 billion loss in 2008.
Asian carriers will contribute 7.7 billion to the global total, while North American airlines will earn 5.1 billion. Europe, with estimated net profits of 400 million, lags behind the Middle East (700 million) and Latin America (1.2 billion). African carriers will earn $100 million this year, IATA said.
The Geneva-based group representing some 230 carriers and 93% of scheduled air traffic said the outlook is bright for Asia. A rapidly expanding middle class in Asia and growing demand for air links between the continent's 15 mega-cities, with over 10 million inhabitants each, promise strong industry profits in the region.
Bisignani forecasted that if "archaic ownership rules" in the United States were changed the industry might soon see the first takeover of a U.S. carrier by an Asian airline.