Uruguay's sky-blue colours celebrate a hundred years of glory and pride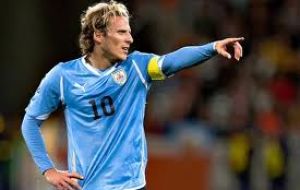 With the attendance of the country's highest political authorities including President Jose Mujica and sports' figures Uruguay celebrated Tuesday the hundredth anniversary of its sky-blue colours, world famous in international soccer.
Uruguay's sky blue colour is associated to the World Cups of 1930 and 1950, when it defeated arch rivals Argentina and Brazil in the finals of the then Jules Rimet trophy. Previously in 1924 and 1928, Uruguayan soccer players wearing the sky-blue shirts had won the Olympic gold medals.
Always listed among the top twenty national teams of FIFA's ranking, Uruguay (with a population of 3.3 million) managed honourable fourth places in 1954, 1970 and this year in South Africa, including the best player prize of the Cup, Diego Forlan.
"Long time elapsed before other sports disciplines adopted the sky-blue colours, but what made it emblematic was precisely that it was quite an original colour", according to Franklin Morales a Uruguayan expert and historian on the country's football performance.
The first time such colour was displayed by a Uruguayan national team was 15 August 1910 in Montevideo in a match against the country's eternal rival Argentina, disputing the Lipton Cup. The colours were used in honour of a local Uruguayan team River Plate that a few months before with the sky-blue colours defeated 3-1 what was then Argentina's best soccer side, Alumni.
Until then Uruguayan national teams had used several options: a blue shirt with a white diagonal stripe; white; blue and white with a red diagonal stripe or a sky-blue and white striped shirt similar to that which later became Argentina's official colours.
But since 1910 sky blue became Uruguay's official colours and world famous after conquering two Olympic gold medals in football (Paris 1924 and Amsterdam 1928) and four South American Cups until the historic World Cups, in Montevideo, when it was first played and in 1950 in Maracaná, Rio do Janeiro.
Last week in in the Bavarian town of Herzogenaurach, Franz Beckenbauer member of the FIFA Executive Committee, and Herbert Hainer, chairman of the board of Adidas AG presented striker Diego Forlan with the Adidas Golden Ball for the player of the South Africa World Cup.
At the ceremony Forlan paid tribute to his Uruguay teammates for their contribution in lifting Uruguay to their first World Cup semi-final in 40 years. Striker Forlan, who plays his club football for Atletico Madrid in Spain's La Liga, was announced as the winner back in July.
"It is obvious that this award is great for me, but it is for the work of the whole team," Forlan said. "The goals that I scored were very important in helping us win matches at key moments when matches were very tight. They were goals that I enjoyed and will remember."
Forlan, however, said he was envious of Spain goalkeeper Iker Casillas - who won the Golden Glove award for conceding the fewest goals in the tournament - claiming the trophy everybody played for was the title of World Cup champions.
"The team awards are very rewarding and like in the case of Iker, he won the World Cup and of course one would prefer to win that trophy" he said. "We are really happy with what we did in the World Cup; we gave joy to our country".
The 31-year-old's five goals helped Uruguay to a semi-final place in South Africa, where they were eventually beaten by 3-2 by the Netherlands. He edged out Dutchman Wesley Sneijder and Spain's David Villa to take the honor.
At the ceremony Germany's Thomas Muller and Spain's Iker Casillas were awarded the Golden Shoe as top scorer and Golden Glove for best goalkeeper.