Brazilian central bank inflation warning; rate hike expected in January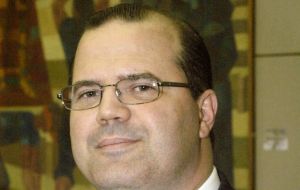 Brazil's central bank reiterated Wednesday its clear commitment to raise interest rates soon, as the outlook for inflation has become "far less favorable" than it had previously thought.
In a stark reversal of tone, the central bank said in its fourth-quarter inflation report that pressures on prices, which had been largely focused on food prices, have spread to broader parts of the economy. The economy is growing strong, unemployment is low and domestic demand is as strong as ever.
New forecasts for inflation are high enough above the government's target of 4.5% to suggest the "need to implement, in the short-term, a rise in the basic rate of interest," the central bank said in its fourth-quarter inflation report.
The market has long been aware of the price pressures, but has been at odds over whether or when the central bank would raise rates. As recently as last week, the minutes of the central bank's latest rate-setting meeting, when the key Selic rate was held at 10.75%, were decidedly ambiguous.
Wednesday's report immediately fueled expectations that the increases will start in January, with the yield on the January 2012 interest rate futures contract rising to 12.11%, from Tuesday's close of 11.99%.
The central bank raised its forecast for the IPCA consumer price index to 5.9% in its latest quarterly inflation report from 5% in September. For 2011, the figure was increased to 5% from 4.6%.
Meanwhile, the central bank said the "the slow process of recovery" in developed economies is likely to continue, and that there's less chance of the global economy falling back into recession, which had been a concern last September.
The change in tone firmed up expectations that the new central bank president, Alexandre Tombini--who takes office in early January--will move quickly to raise rates at the next monetary policy meeting, scheduled for Jan. 18 and 19. It removed some of the uncertainty which has hung over markets for months that rate increases might be delayed until March or beyond.
The central bank indicated it may also take other steps to try to cool the bubbling economy, as it did earlier this month, when it raised bank reserve requirements to slow rampant lending.
The prospect of higher rates is an early setback for President-elect Dilma Rousseff, who takes office Jan. 1, and has vowed to bring down real interest rates over her four years in office.
The Selic interest rate is already one of the highest rates in the world, at a time when rates in the developed world are close to zero. It is blamed for a number of factors including the lack of long-term financing available in Brazil, while also driving up the cost of servicing the government's own debts and also leading to a strong appreciation of the Brazilian real.