Sweden to close embassy in Argentina because of budget constraints
Thursday, December 23rd 2010 - 08:14 UTC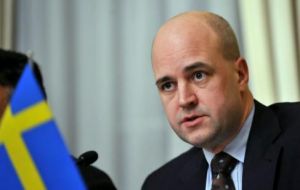 The Swedish government Wednesday said it would close five embassies next year due to budget constraints, among them offices in Argentina.
The embassies facing closure in 2011 are in Argentina, Belgium, Vietnam, Malaysia and Angola, the government said following a cabinet meeting.
Prime Minister Fredrik Reinfeldt's centre-right government is two seats shy of a majority in parliament, and failed to sway the opposition not to go ahead with the proposed cuts.
'This painful decision is the result of parliament's recent decision to cut appropriations to the government offices by 300 million kronor (about $44 million),' Foreign Minister Carl Bildt said.
Bildt has earlier estimated that the foreign ministry share of the 300-million-kronor cut was 135 million kronor.
Early this month the government narrowly lost a vote imposing a funding cut to government offices, defeated by the leftwing opposition and the far-right Sweden Democrats which entered parliament for the first time in September. It was the first time Reinfeldt's four-party coalition lost a vote in parliament since the election.