WikiLeaks founder Assange named "Man of the Year" by France's Le Monde
Thursday, December 23rd 2010 - 08:02 UTC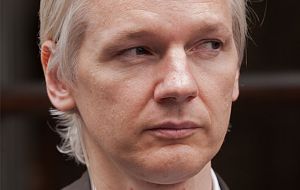 WikiLeaks founder Julian Assange has been named "Man of the Year" by France's Le Monde newspaper, one of the five publications to cooperate with the whistleblowing website on its its latest release of leaked documents.
The newspaper names Assange in a weekly supplement magazine due to appear on Friday.
Visitors to the newspaper's website voted in favour of Assange with 56% backing him for the honour, compared to 22% for jailed Chinese dissident and Nobel Peace Prize winner Liu Xiaobo and 6.9% for American Facebook President Mark Zuckerberg.
Time magazine last week pronounced Zuckerberg its "Person of the Year." Le Monde is the world's leading French-language newspaper.
Meanwhile the press freedom charity Reproters Without Borders (RSF) has begun hosting a mirrored version of the WikiLeaks website to provide alternative access to the leaked US diplomatic cables.
RSF said the move was a "gesture of support" for WikiLeaks, which has suffered harassment and several attempts to close the website in recent weeks. The web address of the new hosted site will be wikileaks.RSF.org.
"This is a gesture of support for WikiLeaks' right to publish information without being obstructed," RSF said.
"We defend the free flow of information on the internet and the protection of sources, without which investigative journalism cannot exist."
The RSF decision to host a Wikileaks mirror site marks a turnaround as the organization was severely critical of the whistle-blowing website in August for its decision to publish 91,000 Afghan War Logs documents.
In a full-blooded attack, the charity said that in addition to putting lives in danger, publication of the Afghan war documents risked future use of the internet as a viable source of information.
The charity accused Wikileaks founder Julian Assange of acting with "incredible irresponsibility"," imprudence" and accused him of endangering his sources and leaving those that risk their lives to provide information more exposed to reprisals.
WikiLeaks responded dismissing the charity as "Reporters Without Checks" and accusing it of concocting "some idiot statement, based on a bunch of quotes we never made".