US scientists looking into data suggesting sustained decline of Antarctic krill
Saturday, December 25th 2010 - 08:34 UTC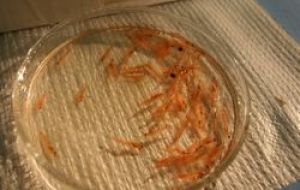 By Susan Moran - They're called "the krillers" around Palmer Station, because they're always on the hunt for Antarctic krill: tiny, shrimp-like crustaceans that form the foundation of the Antarctic food web.
On some days the krillers call their Zodiac Psychokrillers. But on this mid-December morning, they chose a more respectable name for their inflatable boat: Sir Ernest Shackleton.
Kim Bernard, an ecologist at the Viriginia Institute of Marine Science, College of William and Mary, steered Shackleton to the first of two sites not far offshore from Palmer, where she and her research assistant, Carolina Funkey, could cast a net and troll for as many krill as they could capture without squishing them.
This was one of many krill-trolling Zodiac trips Bernard and Funkey, a graduate student at the Virginia Institute, will make during the austral summer season. The goal is to better understand changes in krill populations in the Palmer Station vicinity, as well as how the changes might be affecting penguins and other krill predators farther up the food chain.
Antarctic krill are the keystone of the Western Antarctic Peninsula ecosystem. The Adelies penguins' krill-rich diet is revealed on their chests, which are silky white when they waddle to shore after foraging, but become smudged with what looks like thick strawberry sauce after they've been sitting on their nests for a while, incubating their eggs.
When Shackleton arrived at the first study site, Bernard and Funkey cast a long rope down to 20 meters below the ocean surface, with a cylindrical mesh net attached. They let the net sit still for a few minutes, then towed it in one direction, and then zig-zagged a bit. Then they pulled in and examined their catch of krill, captured in a Nalgene-like plastic bottle at the end of the net. Two separate filters had blocked phytoplankton smaller than krill from ending up in the sample bottle.
In two tows, Bernard and Funkey caught just 49 krill. Most were about a year old and less than a half-inch long. "It used to be so easy to catch krill," said Bernard, looking a bit forlorn at the lean catch. "But in the last five or six years we're seeing dramatic declines."
The krillers' research is a significant piece of the Palmer Long-Term Ecological Research Program (LTER). (See previous blog posts for more details about the Palmer LTER, climate change and the Western Peninsula, and penguins.) Bernard told me that her adviser, Dr. Deborah Steinberg, who joined the Palmer LTER a couple years ago, has shown in her preliminary analysis of long-term data that krill are declining in the northern regions along the Western Peninsula, which includes the Palmer area. (These data are still unpublished.)
Sea ice is the main habitat for the minute crustaceans, especially for juvenile krill, which feed on sea-ice algae. Krill also hide from predators in the crannies underneath the ice cover. Since 1950, sea ice cover has dropped by 40%, and the average annual period of ice cover has shrunk by 80 days. The shortfall has impacts all up the food chain -- from the krill-eating whales and penguins, to the penguin-eating seals. Critters down the food chain are also affected: Without the sea ice, ocean water mixes at a deeper level in the water column, dragging the ice algae down to darker depths where they must strain to photosynthesize.
Intense commercial krill fishing in the Southern Ocean, north and west of the Western Peninsula, is also stressing the population. These krill catches are being sold as feed for aquaculture, as well as the exploding "nutraceutical" market for Omega 3-rich krill oil.
As krill populations in the area are dwindling, those of a competing zooplankton called salps are expanding. Salps look like tiny clear jelly blobs, similar to tiny jellyfish, though they're not jellyfish.
During my stay at Palmer Station, a group of researchers' team led by Dr. Joe Warren, an acoustical oceanographer at Stony Brook University in New York, stayed on R/V LM Gould to collect samples of salps and krill. They hope to better understand the relationship between declining krill and increasing salps in various areas. It's too soon to characterize the relationship, Dr. Warren said. (For more information about salps, go to the group's blog at Stony Brook's Accoustic Laboratory for Ecological Studies. But Angus Atkinson and other authors of a 2004 article in Nature suggested that salps can tolerate warmer water than krill.
Whether predators and prey alike can adapt to a changing environment remains to be seen, but it's something front and center on the minds of Palmer Station scientists like Bernard and Funkey, and those elsewhere in Antarctica. I salute them for their determination and discoveries, and thank them for giving me a glimpse into their day-to-day world of experimentation.
(*) Science journalist Susan Moran has been blogging from Antarctica for OnEarth.