Bolivia announced plans to invest 1.7 billion in the energy industry next year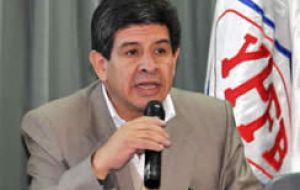 Bolivia plans to invest 1.73 billion US dollars in the energy industry in 2011, focusing on gas to ensure adequate production to supply Argentina and Brazil, as well as the domestic market, the head of state-owned oil company YPFB, Carlos Villegas, said.
"It's going to be a level of investment that will break records going back a long time, and it will make it possible to achieve important increases in terms of production," Villegas said.
YPFB will be able to meet its contractual obligations to provide 31.5 million cubic meters per day of gas to Brazil and 7 million cubic meters per day of the fuel to Argentina.
Bolivia agreed to provide Argentina with a minimum of 7.7 million cubic meters per day of gas as of Jan. 1, with the export level rising to 27.7 million cubic meters per day by 2017.
The contract with Brazil calls for minimum exports of 24 million cubic meters per day of gas and a maximum of 31 million cubic meters per day of the clean-burning fuel.
Bolivia's domestic market consumes 8.5 million cubic meters per day of natural gas.
"The investments we are going to make next year will cover the increase," Villegas said.
The goal is to expand gas production to 71 million cubic meters per day over the next few years, the YPFB chief said.
Bolivia has around 8.3 trillion cubic feet (tcf) of gas reserves, or about one-third of the 26.7 tcf of reserves previously estimated, a report released unofficially by analysts concluded.
U.S.-based DeGolyer and MacNaughton had estimated Bolivia's proven gas reserves at 26.7 tcf in 2005, but it sharply revised that figure downward to 12.8 tcf in a report the following year.
President Evo Morales's administration, which had kept that latter figure secret until last month, cancelled DeGolyer's contract after the second study.
La Paz subsequently hired another U.S. consulting firm, Ryder Scott, to conduct another reserves study.
That was delivered in mid-September, but Villegas told Congress early last month that Bolivia was not fully satisfied with the report and had asked the company to make some unspecified corrections.
He did not confirm to Congress whether the report lowered the gas reserves estimate to just 8.3 trillion cubic feet, a figure provided by analyst Hugo Del Granado that caused a major stir in Bolivia's energy sector.
Roughly a dozen firms are involved in natural gas production in Bolivia, including Spain's Repsol YPF, Brazil's Petrobras, Britain's BG Group and French major Total.
Analysts say that if the lowest estimates of Bolivia's reserves prove to be accurate, the country, once regarded as holding South America's second-largest natural gas reserves, would rank just fifth in the region in terms of that fuel.
Venezuela, according to reports by Bolivian experts, has 200 tcf of proven gas reserves, followed by Argentina with 13.2 tcf, Brazil with 12.7 tcf and Peru with 11.2 tcf.