According The Times Chile Miners Named "Team of the Year"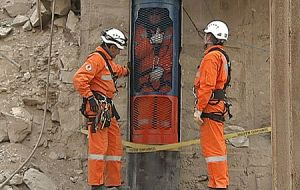 The 33 miners who survived 69 days at a depth of some 700 meters (2,300 feet) down a Chilean mine were named "Team of the Year" on Tuesday by The Times of London
The newspaper said that these men, who suffered a true calvary, faced their fate with "grace, discipline and humor."
"They were ordinary men who were caught in an extraordinary situation and rose magnificently to the challenge. Their fortitude inspired billions of people. That is why The Times has named Los 33 as its Team of the Year," the newspaper said.
The Times also mentioned the miners' families, who refused to throw in the towel and not once lost hope of their loved ones coming out alive.
The brief article also underscored the work performed by the engineers and technicians of the huge drilling machines used to carry out the rescue, partly financed by the Chilean government, state copper giant Codelco and private parties.
The rescue of the miners, 32 Chileans and one Bolivian, from the San Jose copper and gold mine in Copiapo in northern Chile's Atacama Desert, where they were trapped when hundreds of thousands of tons of rocks collapsed in mineshaft above them on Aug. 5, was one of the incidents that grabbed the most media attention in recent years. EFE