Lula da Silva has his own oil field according to Petrobras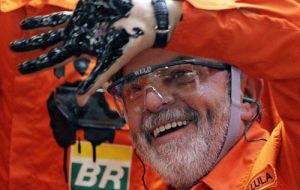 Brazilian state-controlled energy giant Petrobras on Wednesday confirmed the commercial viability of two massive offshore oil and gas fields located deep beneath the ocean floor, announcing that one of them will now be known as "Lula."
The name of that field, determined to hold 5 billion barrels of recoverable oil equivalent and formerly known as Tupi, was changed in honor of popular two-term President Luiz Inacio Lula da Silva, who on Saturday will hand over power to hand-picked successor Dilma Rousseff.
The company informed the ANP energy industry regulator of its decision to declare the commercial viability of the Lula and Cernambi (formerly known as Iracema) fields.
That latter deposit – like Lula – is part of the BM-S-11 block, in which Petrobras owns 65 percent and Britain's BG Group and Portugal's Galp Energia have minority stakes. Cernambi holds total recoverable volume of 3.3 billion barrels of oil equivalent.
The Lula field was discovered in October 2006 and has been touted as the biggest oil find in the Americas since Mexico's Cantarell in 1976.
The declaration marks the end of Petrobras' exploratory program at the two fields and serves as official confirmation of Petrobras' ability to exploit those deepwater deposits.
Both the Lula and Cernambi fields are located in a vast region known as the pre-salt that measures 800 kilometers (500 miles) long and 200 kilometers (125 miles) wide and is estimated to hold some 80 billion barrels of crude.
But accessing the pre-salt fields will be very costly and pose an enormous technical challenge because they are located some 150 kilometers (93 miles) offshore at depths of between 5,000-7,000 meters (16,400-22,950 feet) and under a layer of salt up to 2 kilometers (1.2 miles) thick.
Drastic changes in temperature as the oil is brought to the surface add to the technical complexity of developing those fields.
Separately, the president on Wednesday announced Rousseff's decision to maintain economist Jose Sergio Gabrielli as Petrobras' CEO.
"I would like to send my regards to Mr. Gabrielli, because Dilma announced that he'll stay on as Petrobras' president," Lula said at a ceremony to mark the start of construction of a new refinery in the northeastern state of Ceara.
The president-elect, however, has not yet made any statement to that effect.
Lula made no further mention of the matter during his speech, while Gabrielli, who was present at the ceremony, smiled at the announcement.
The 51-year-old Gabrielli has been at the helm of Petrobras since July 2005, when he replaced Jose Eduardo Dutra, current chairman of the ruling Workers Party, or PT.
Gabrielli, also affiliated with the PT, had been the company's chief financial officer before being named to the top post.
The Brazilian government owns more than 50 percent of the voting rights in Petrobras, an open capital company whose shares trade on the Sao Paulo, New York, Madrid and Buenos Aires stock exchanges.
Petrobras became the second largest company by market capitalization in the Americas after a $66.9 billion share sale in September, the biggest in history. EFE