Venezuelan currency devalued again
Monday, January 3rd 2011 - 05:11 UTC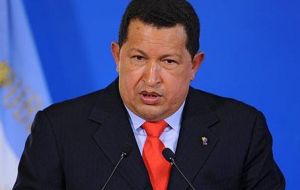 Venezuelan government devalued its bolivar currency for the second time in 12 months on Thursday, abolishing the lowest exchange rate as the Opec member fights to revive its economy. Intended to spur local production in the largely import-dependent nation, the announcement followed a central bank estimate that the economy contracted 1.9 percent during 2010 - Venezuela's second straight year of recession.
The central bank said it would eliminate the exchange rate of 2.6 bolivars per dollar, which had been available for essential imports such as medicines and some foods, accounting for roughly a third of all forex transactions. The socialist government hopes the move will attract foreign funds, improve its balance sheet and make the local private sector more competitive.
"The decision will have positive consequences for investment in 2011," said central bank chief Nelson Merentes. Economists had forecast a devaluation given the perilous state of the country's finances despite global oil prices that have averaged over $80 per barrel during the year. Crude and oil products account for about 90 percent of Venezuela's export revenue.
They expected that Chavez, who trumpets his "21st century socialism" as a model for the world, would want to take the political pain of a devaluation as early as possible before seeking re-election in the December 2012 presidential polls. Latin America's only major economy still in recession, Venezuelan GDP shrank 3.3 percent last year. But the government says the economy is recovering and will grow by 2.0 percent in 2011.
"Politically, it is the right thing to do. They are devaluing now so as to avoid it in 2012 and take the inflationary hit in 2011," said local analyst Miguel Octavio, of BBO financial services. "It's brutal for the ordinary Venezuelan because it will affect food and medicine prices."
Venezuela already has one of the world's highest inflation rates, estimated by the central bank at 26.9 percent in 2010. The price rises threaten to alienate Chavez's core support in the country's slums and poor rural areas. As of January 1, in a still-complicated currency control system, dollars will be available at state-controlled rates of 4.3 bolivars per dollar for some preferential goods and 5.3 bolivars via the central bank's SITME exchange system.