Chile supports Israel-Palestine peace dialogue; Piñera to visit the area next March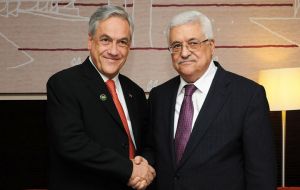 The Chilean presidency Secretary General Eva Von Baer reterated this week that the Chilean Executive "fully supports the dialogue between both sides, the state of Israel and Palestine, and we support the continuation of such dialogue, and from that dialogue the creation of an independent Palestine state".
The Chilean Government House (Casa de la Moneda) spokesperson comments follow on a draft declaration from the Chilean Senate requesting "the President of the Republic and the Minister of Foreign Affairs that the state of Chile, in the shortest time possible, recognizes the existence of a state of Palestine, as a full, free and sovereign state".
The Chilean press recently revealed that president Sebastián Piñera is scheduled to visit next March Israel and the Palestine territories.
"We are currently organizing the visit and the issue (Palestine state recognition) is under consideration, therefore there's not much to add yet", said Eva Von Baer.
"We hope that this visit takes place, that it is a good and positive visit for both peoples, that Chile as a country can support and enhance the current dialogue between both sides, and above all, that it will always be in support of peace and the peace effort", underlined the Chilean official.
Brazil, Argentina, Ecuador, Venezuela and Bolivia have already recognized the state of Palestine as a sovereign entity with borders pre-1967. Uruguay has promised an official recognition sometime this year, while Colombia and Chile support the continuation of dialogue and successful peace talks before a full recognition of a Palestinian state. This last stance is closer to the US and Israel position.