Korea resorts to vaccination to combat foot and mouth epidemic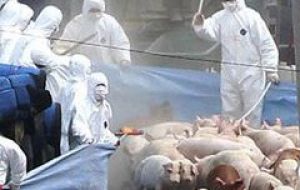 Overwhelmed by the rapid spread of foot and mouth disease FMD the South Korean government announced that it will vaccinate pigs, cows and all other cloven hoofed animals. The decision came after the highly contagious virus has turned into a nationwide epidemic, with livestock farms in the eastern province of Gangwon falling victim to the deadly disease.
"The government decided to inoculate cattle and other livestock on a limited basis to stop the further spread of the disease and regain a free of FMD status. The extent of the vaccination and other details will be determined later by a group of experts to achieve maximum effectiveness," Minister of Food, Agriculture, Forestry and Fisheries Yoo Jeong-bok said after a meeting of an Emergency Livestock Quarantine Committee.
The FMD outbreak was first reported in Andong, North Gyeongsang Province, on Nov. 29. The deadly virus has since devastated pig and cattle farms in the province, and then made its way into northern Gyeonggi Province, forcing farmers and quarantine authorities to destroy and bury tens of thousands of cattle animals.
The ministry said cattle farms in Pyeongchang and Hwacheon, Gangwon Province, were confirmed positive for FMD. Following the confirmation, all 26 cattle in Pyeongchang along with dogs and other domesticated animals were culled and buried. In Hwacheon, 25 cows and other animals at an infected farm and two others within a 500-meter radius were slaughtered and buried.
Since the first outbreak was confirmed on Nov. 29, Korean authorities reported 48 FMD cases with over 224,600 livestock having been terminated or to be destroyed the largest number ever. In 2002, a total of 165,555 animals were destroyed. The farms are estimated to have suffered about 230 billion won in losses (approx 200 million USD).
Vaccinating 100,000 heads of cattle or pigs could cost 600 million to 700 million won, (approx 700.000 USD). Korea has an estimated 13 million heads of cattle and pigs along with smaller numbers of cloven-hoofed animals such as deer, goats and sheep.
Other Korean official sources estimated that the cost of culling animals already exceeded 230 billion won and is likely to go up, making the latest outbreak the most severe FMD outbreak reported so far.
Korean was declared free of FAM last September by the World Organization for Animal Health, but the status was revoked following the recent outbreak
If Korea strictly applies (as the only method) the destruction and burial of animals to combat FMD, it can again apply for a free FMD status in three months once the outbreak has been eliminated. Otherwise with vaccination it won't be able to apply for a free of FMD with vaccination status until at least a full year.