Magallanes region declare UV radiation exposure emergency first week of 2011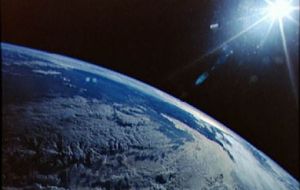 Magallanes Region in the extreme south of Chile has declared an UV radiation emergency for the first weekend of 2011. According to the UV scale radiation or solar exposition is forecasted to reach 9 which is described as "very high and extreme".
Given the forecast the regional National Health Office head, Dr. Maria Isabel Iduya has called on the local population to adopt extreme prevention measures which includes sun glasses; factor 30 sun protector creams; hats or caps; keeping vulnerable population out of solar exposure (babies, children and elderly) and limiting to the most activities under sun exposure.
The emergency warning is particularly significant since many people are planning to celebrate the New Year open spaces and parks exposed to high levels of UV radiation.
Dr. Claudio Casiccia from the Magallanes University Ozone Laboratory has cautioned that exceptionally high levels of UV radiation Hill continue above normal rates well into the next seven days.
Dr Iduya remembers that the worst hours for sun exposure, and which should be avoided, are from 10:00 in the morning to 16:00 in the afternoon with the highest UV exposure at 14::00 hours.
A clouded sky remains equally dangerous since it is no filter for UV radiation, warns Dr. Iduya.