Punta Arenas on strike over a planned 20% gas price hike
Thursday, January 6th 2011 - 21:13 UTC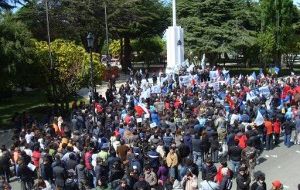 The southern Chilean city of Punta Arenas had its largest strike in decades Wednesday in response to a government proposal to increase the price of gas in the region by 20%.
Workers and students took to the streets and all public transport was suspended. A peaceful protest took place at 11 a.m. in the city's Plaza de Armas.
Protestors demanded the government not go ahead with the price increase. One protestor threatened that if the increase wasn't rescinded "immediately," measures would be taken to show the nation that "the plentiful natural resources here do not reach the homes of the region, but rather increase poverty in the southernmost area of the country."
On Tuesday, the situation had reached an impasse as the four parliamentarians from the Magallanes region met with the minister for energy, Ricardo Raineri, and Rodrigo Azócar, the director of Chile's National Petroleum Company, ENAP – which is mainly responsible for administering gas in the area – and were unable to reach an agreement.
During a visit to the region on Nov. 5, President Sebastian Piñera had said Magallanes inhabitants had "nothing to fear, because there are good reasons for keeping the price of gas – which is such a vital element in a region with such difficulties and cold weather – lower for the people of Magallanes than for the rest of the country."
On Wednesday, Magallanes Deputy Carolina Goic criticized the government's move, saying that the president had broken his promise to inhabitants of the region.
But Magallanes Governor Liliana Kusanovic defended President Piñera's proposal. "What's being done with this measure is equitably insuring the rational use of gas so that we have gas in the future and, furthermore, encouraging the exploitation of gas by other companies. If there's no market price for gas, there's no incentive for investment," she said.
The mayor of Punta Arenas, Vladimiro Mimica, told Radio Cooperativa that gas was crucial to all aspects of living in Magallanes and the protestors' demands were just. "Gas in the region of Magallanes means our daily bread, it's like water, it's a necessity and not a luxury, all 365 days of the year," he said.
The Magallanes region in Chile's southernmost tip is known for its bitter temperatures and relies heavily on gas for transport and heating.
By Katherine Phelan (editor@santiagotimes)