Germany knew in 1952 Nazi Adolf Eichmann was hiding in Argentina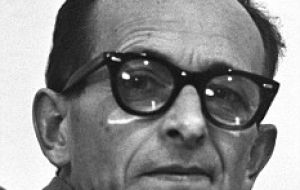 The notorious Nazi Adolf Eichmann could have been caught sooner if Germany's intelligence agency had assisted, new information has revealed. The German Information Agency knew as early as 1952 that Eichmann, a chief organizer of the Nazi genocide against the Jews, was hiding in Argentina under a false name, the German tabloid Bild reported.
The information was revealed after the newspaper sued the agency to force the release of all remaining documents on Eichmann, who was captured by Israeli agents in 1960. After a trial in Israel, he was executed in 1962 -- the only person ever executed by the Jewish state.
"The revelations are very troubling because they clearly show the Germans never had any interest in bringing people like that to justice" Efraim Zuroff, head of the Simon Wiesenthal Center's Israel office is quoted by the Jewish Telegraphic Agency, JTA. "Today they are making the effort, but with criminals who played a far lesser role than Eichmann."
According to the documents viewed by Bild reporters, the German secret service received information in 1952 that Eichmann "is not in Egypt but is living under the name Clemens in Argentina. The editor in chief of the German newspaper 'Der Weg' in Argentina knows E.'s address."
In fact, Eichmann's fake name was Klement. Not until 1958 did the German secret service inform the CIA about Eichmann having fled to Argentina. The newspaper reported that virtually all of several thousand microfilmed pages about Eichmann were destroyed. Bild sued for the right to see all the remaining documents.
Historian Bettina Stangneth, whose book about Eichmann is due to be published in April, told Bild that she considered the file card "sensational. No one knew until today that the West German secret service knew of Eichmann's whereabouts eight years before his arrest".
Zuroff said he planned to appeal to the German government to release all the secret service documents that may contain information about accused war criminals who have escaped justice.