Estancia Vik, Jose Ignacio, Uruguay: The Art of Doing Nothing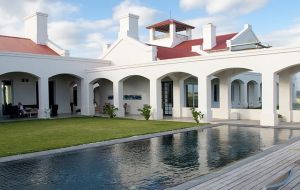 Il dolce far niente, (the art of doing nothing), an old Italian expression, so difficult to define with words, becomes crystal-clear once you set foot in Estancia Vik in Jose Ignacio, Uruguay.
Everything about this place invites you to relax and let your senses enjoy the natural beauty that surrounds you.

Try to picture yourself immersed in an unspoiled 4,000 acres of countryside, where a peaceful river runs through the property and down to the Laguna Jose Ignacio.
Imagine 50,000 square feet of serene luxury in a magnificent Spanish colonial-style building, designed by the Uruguayan Architect, Marcelo Daglio, where 12 suites showcase the work of some of the best Uruguayan artists of today.
You are not dreaming. You are part of the closest thing there is to Paradise!
The owners of Estancia Vik, challenge you to discover this oasis, where everything has been thought of to make you feel content doing nothing!
However, if you feel compelled to have other activities, Estancia Vik offers nature walks, bird watching, horse riding, bicycling, hiking, canoes (handmade), kayaks, kite-surfing, windsurfing, sail boats, fishing equipment, and of course a spa and a well-equipped gym! Oh! Let us not forget the private polo field!
- They also encourage you to visit the beach, just a short ride away.
So much more to say. So little space! View the Estancia Vik web site! www.estanciavikjoseignacio.com
- Getting there:
American Airline flights direct to Montevideo from Miami 5 days a week. (www.aa.com)
Ground transportation from the new Carrasco International Airport is available through TransHotel, (www.e-transhotel.com)
Estancia Vik is also accessible via the Punta del Este International Airport that accommodates private jets 24/7.
By Teresita D'Alessandro, (MercoPress Lifestyle & Arts Correspondent), & David P. Michaels, (MercoPress Bureau Chief)