Falklands: FOGL prospects show promise, says broker
Monday, January 17th 2011 - 23:22 UTC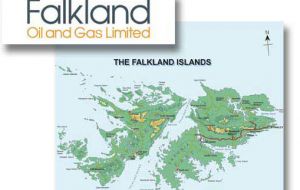 FALKLAND Oil and Gas Limited has the potential to offer investors returns of 130 per cent in the medium term, according to the Jefferies brokerage.
Jefferies last week initiated coverage on the AIM-listed oil and gas exploration company operating in the undrilled South and East Falkland Basins. A target share price of 225p a share has been set, while shares were yesterday trading at close to 99p.
But for these potential gains to be met Falkland Oil and Gas needs to come up with some oil, and the last drill results from the company were not promising.
In July FOGL confirmed that its Toroa F61/5-1 exploration well had been drilled to a total depth of 2,476 metres, but it was then
plugged and abandoned after failing to find any reservoired hydrocarbons.
The company said: "Further detailed evaluation of all data and
information gained from this well will now be carried out. An update will be provided once this work has been completed."
Small Cap News reports: "No sign of a rig for further drilling yet, and its joint venture partner BHP Billiton has since decided not to continue to the second exploration phase on the southern licences." But it said FOGL was "keeping the faith" and assumed 100 per cent of its southern licences." (Penguin News)