Joy Over the Beatification of John Paul II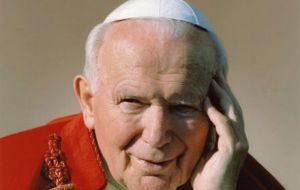 Pope Benedict XVI expressed yesterday that all who knew or admired John Paul II would share the joy he feels over the beatification of his predecessor, which will be held on May 1st in a ceremony which will be attended by over two million people
The beatification is the last important step needed for a Roman Catholic to be considered for sainthood.
It's predicted that he ceremony, to be held the week before Easter Sunday, will attract a large crowd, according to Roman authorities that are in a hurry to prepare the capital for the act.
Almost three million people attended John Paul's funeral held in the Vatican.
"On the first of May I will have the joy of proclaiming blessed the venerable John Paul II, my beloved predecessor" said Benedict XVI addressing the crowd gathered outside his window at Saint Peter's square to receive the traditional Sunday blessing.
"Everybody who treasured and loved him, can only look forward with the church to this event" said the Pope.
Many peregrines will come from Poland, John Paul's native country, to celebrate. The Pope announced to the Polish followers that he shares their joy for the beatification announced on Friday.
"This news has been long awaited by all", especially by the Polish people, as John Paul II had been "their guide in faith, truth and freedom" said Pope Benedict XVI.
The first Polish pope, whose pontificate lasted from 1978 to 2005, is credited as having helped end the communist control of Eastern Europe at the end of the 1980's, especially for its support to the Polish labor movement.
The pope has however been criticized for not having done enough in regards to the sexual abuse by priests to their young congregates.
When the scandal broke, many heads of the church were accused of having been involved in systematically covering up these abuses.
The international Catholic group We Are Church has described John Paul II as a "controversial and contradictory pope" and has accused him of promoting authoritarianism within the Church.
In a statement released on Sunday, We are Church contended that John Paul's "penchant for spiritual authoritarianism" contributed to "the greatest tragedy of his tenure as pope: the sexual abuse of thousands of children globally."