Chile: After Seven Days of Manifestation Agreement Puts End to Gas Crisis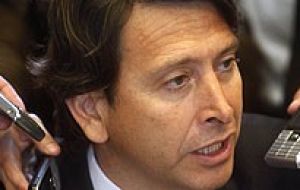 Chilean officials reached agreement Tuesday with the Citizens Assembly of Magallanes over an increase in natural gas prices that sparked a week-long general strike in the remote southern region, sources involved in the talks said.
The pact was forged by Mining and Energy Minister Laurence Golborne and the leaders of the assembly, which organized protests after the government announced a 16.8 percent hike in gas prices in Magallanes, which produces all of Chile's natural gas.
"The accord is being signed in Punta Arenas," a congressman representing the region, Miodrag Marinovich, said on Twitter.
"Great Magallanes, we have made history, an example. A regional mobilization ends," the lawmaker said.
The agreement calls for a 3 percent increase in gas prices through August, by which time a permanent price structure is supposed to be in place, assembly sources said.
Also included is the provision of natural gas subsidies for 15,000 low-income households in Magallanes, where temperatures rarely rise above 15 C (59 F) and the cost of living is at least a third higher than in the rest of Chile.
Golborne, the most popular figure in the right-wing government of President Sebastian Piñera, failed Monday in his first attempt to reach accord with the Citizens Assembly.
The minister even needed a police escort Monday night to exit a Punta Arenas radio station surrounded by residents shouting insults and anti-government slogans, though the protest remained non-violent.
Nearly 200 people were arrested during the course of the general strike and two demonstrators were killed last week when a truck burst through a barricade and ran them over.
Residents of Punta Arenas, the world's southernmost city, began to take down roadblocks Tuesday after hearing about the accord, area media outlets said. (EFE)