Argentina Farmers Threaten Second Strike of 2011
Thursday, January 20th 2011 - 03:42 UTC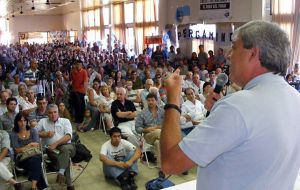 Argentine farmers threatened to go on strike for a second time this year if the government does not change their policy towards them. At a meeting in Buenos Aires province city, Bahia Blanca, farm workers leaders met to discuss the week-long strike, which began last Monday. Farmers have stopped the sale of wheat, corn and soybean over export curbs.
Farmers are protesting against a system of export quotas that they claim allows buyers to pay them low prices. Eduardo Buzzi, president of the Argentine Agriculture Association said "the halting of the sale of grains is taking place because the government decided to transfer farmer's money to the big companies, that's why this strike is justified, it should end on Sunday night, but we'll see if it does, because the trade secretary continues to makes decisions that favour big companies and not farmers."
Argentine farmers and the government have been at loggerheads for three years over export curbs aimed at taming inflation and guaranteeing affordable supplies of everyday staples. They claim that the system of wheat and corn exports lets mill and exporters pay farmers low prices and they have constantly been asking the government to do away with the restraints. Argentina is one of the world's largest food providers.
During their meeting on the third day of the current strike the rural leaders said the government has yet to respond to their demands. One of the leaders suggested that they monitor prices paid in the local market during the coming days before deciding whether to call for another strike. "if things don't go back to normal, we will call for another commercial strike. We have to continue, we have to make progress," said Mario Llambas leader of the Argentine Rural Confederation.
"Our intention is to find solutions, so farmers are no longer robbed, as they have been robbed for the last five years. What we want is a fair price," he added.
Following the government's intervention in the wheat market, claiming they wish to protect Argentine consumers, the price of bread has increased 140% according to the farmer's leaders and the farmers themselves receive less than 10% of what a kilo of bread costs the public.
The latest strike and uncertainty is bad news for President Cristina Fernandez de Kirchner as presidential elections are just nine months away. President Kirchner is expected to seek re-election.
"A very large number of farmers have gone on strike and are demanding more action and strikes and it is surprising the government isn't doing anything," said rural sources.
The government has maintained restrictions on the exports of wheat, corn and meat, claiming they want to control the country's inflation. Farmers claim the restrictions do not stop food prices increasing, but favour mill and export companies, who are able to purchase grains at low prices as there is.
If demands are not met by the weekend, rural leaders will decide whether to continue with the strike.