Uruguayan Low Unemployment Causing Problems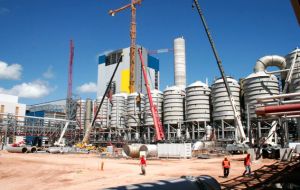 To have low unemployment is something most countries would be proud of and not moan about. However, in Uruguay unemployment is at an all-time low of 6.1% and is causing concern among economists, human resource companies and businesses, reports the BBC.
Uruguay – like Spain today – had an unemployment rate of 20% during the crisis which hit the country in 2002. But, with annual economic growth above 6.5% this figure has fallen dramatically. It could be considered a perfect scenario, but it is causing problems.
"Businesses are starting to be unable to find workers, it is complicated to find workers in Uruguay, not just skilled ones, but people who really can do the work," economist Alfonso Capurro from the consultants CFA Ferrere said. "The other problem low unemployment can bring, is that it can put pressure on inflation," he added.
The manager of Advice Consultants Federico Muttoni, said that "sustained economic growth over the last few years, an increase in foreign investment and in agriculture and forestry has created many new jobs and now it is hard to satisfy the demand for adequately skilled workers."
The situation will get worse, Juan Manuel Rodriquez, director of the National Institute of Employment predicted, because of several projects which are due to commence this year. These include a pulp mill and mining, which between them will need to hire eight and ten thousand workers.
One of the solutions is to give Uruguayans living abroad, incentives to return to their country. A few months ago the Uruguayan government suggested that the Spanish government that offer incentives to Uruguayans living in Spain, who worked their during the construction boom, so that they return to Uruguay and work in the flourishing industry there.
Construction is facing difficulties to find qualified workers to hire and the Construction Chamber has suggested that the Defence Ministry train military personnel as builders, for when they are needed, and they could continue to work in building, once they have completed their obligatory military service.
The lack of unskilled workers is most notorious in the mechanical industry and informatics. Numerous courses for unskilled workers, mostly youths and women are being set up. Young people can find a job, but they are not skilled and courses aim at training workers for their chosen skill and to also teach them basic work habits, such as team work, and following work norms and orders.
All the specialists consulted said that the education system must be reformed to improve the quality of teaching, something which has been discussed for years and President Jose Mujica has promised to do during his term in office.
Because of the lack of skilled workers in many areas, it is expected that there will be 'salary wars' as businesses will have to fight for workers. This salary increase, in some sectors, has already led to price increases and this generates inflation.
According to Neker de la Lllana, from Manpower the education system must be adapted to fit current work requirements. "The curriculum in Uruguay is somewhat rigid, it makes changes difficult. If one studies a series of subjects in secondary school and then decides to study something else at university, many students often have to study secondary school subjects again. The key is for students to be encouraged to study subjects which it is known will have work possibilities."
In Uruguay the most popular careers are law, medicine and psychology, whilst the biggest demand is for engineers, particularly system engineers.
The most popular careers are medicine and law. In these two fields there are more students than in others which are crucial for development," added Muttoni "many people think that being a doctor is better than being a skilled electrician, but electricians are guaranteed work quicker than doctors."