Mountaineers Rescued on Aconcagua
Friday, January 21st 2011 - 18:06 UTC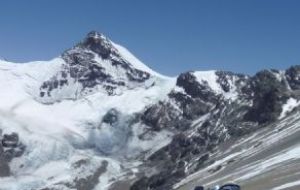 An Argentine and a Spaniard were reunited with their families in Mendoza city today after having been rescued from the Aconcagua mountain in Mendoza province, on the border with Chile overnight.
The mountaineers Belen Pedernera age 22 and Tomas Gomez, age 31 began their climb on January 4th and were due back on Monday, but as nobody had seen or heard from them the alarmed was raised and a search got underway.
Gomez said they had taken a wrong turn and got lost, although the head of the rescue patrol David Spinelli told local media that they had not taken a wrong turn but that the climb was more complicated than they expected and they got stuck at 5.200 metres on the Piramide slope and were unable to move. Temperatures on the mountain were well below zero degrees.
The rescue operation involved twenty people and a helicopter, which was able to locate them and drop food supplies early Wednesday and the rescue patrol later reached them.
The pair suffered no injuries but were dehydrated and exhausted and suffering from shock doctors at the local hospital said after them treated them.