Argentina: Seafood Exports Rise in Value But Decline in Volume
Monday, January 24th 2011 - 17:53 UTC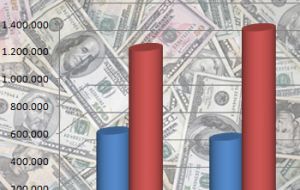 Argentina exported 430,894 tonnes of seafood for USD 1,205.3 million in 2010, according to statistics from the National Food Health and Quality Service (Senasa).
These figures represent a decline of 3.1 per cent in volume and a rise of 10.1 per cent in value compared to those recorded a year earlier, when 444,588 tonnes was sold abroad for USD 1,094.5 million tonnes.
Between January and December 2010, Senasa certified around 309,043 tonnes of fish exports, valued at USD 636.2 million, as well as 121,851 tonnes of shellfish valued at USD 569.1 million.
The major export species were hake (Merluccius hubbsi), with 152,427 tonnes worth USD 346.7 million, down 0.8 per cent in volume but an increase of 1.7 per cent in value compared to 2009 (153,608 tonnes and USD 340.6 million).
In terms of volume, in second place came shrimp (Pleoticus muelleri), with 60,991 tonnes worth USD 416.1 million, an increase of 19.2 per cent in volume and 29.4 per cent in value compared to 2009, (51,133 tonnes for USD 321.5 million).
Ranked behind were exports of squid (Illex argentinus), with 50,864 tonnes worth USD 97.6 million; hoki (Macruronus magellanicus), with 18,194 tonnes worth USD 38 million, and Patagonian anchovy (Engraulis anchovy), with 17,324 tonnes worth USD 31.7 million.
Shipments of Patagonian scallop (Zygochlamys patagonica) amounted to 9,225 tonnes worth USD 51.4 million, fin rays (Potamotrygon brachyura) 6,845 tonnes worth USD 14.6 million, pink cusk-eel (Genypterus blacodes) 5,052 tonnes for USD 19.5 million, and those of Patagonian flounder (Paralichthys patagonicus), 2,534 tonnes worth USD 11.2 million, among other species.
Spain remained the main destination for Argentine seafood, as they bought 90,890 tonnes worth USD 396.4 million between January and December 2010.
In second place was Brazil, with 62,893 tonnes worth USD 160.3 million, followed by Italy with 32,658 tonnes valued at USD 142.9 million, and further behind was the U.S., with 18,859 tonnes worth USD 61.8 million.

by Analia Murias - FIS