Merger Takes Place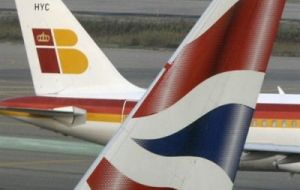 British Airways and Iberia have registered their merger, forming a holding company International Airlines Group SA.
Shares in Iberia and BA ceased trading, while shares in IAG are to be listed beginning Monday on the London, Madrid, Barcelona, Valencia and Bilbao stock exchanges.
IAG will be the world's sixth-largest airline in terms of business volume, with 406 aircraft flying to more than 200 destinations and carrying nearly 60 million passengers a year.
With annual revenue of close to 15 billion euros ($20.4 billion), it will be the third largest airline in Europe after Lufthansa AG and Air France-KLM.
Following a decade as strategic partners and members of the global "oneworld" alliance, Iberia and BA announced on July 29, 2008, that they were in merger talks.
After both airlines' boards of directors agreed to a binding memorandum of understanding paving the way for an eventual tie-up, the contract formalizing the merger deal was finally signed on April 8, 2010.
Iberia's shareholders have 44 percent of IAG, whose financial and operational headquarters will be in London, while BA's shareholders possess the remaining 56 percent stake.
Iberia and BA will continue to fly under their respective brands.
Both Iberia Chairman Antonio Vazquez and BA Chief Executive Willie Walsh, who is to head IAG, have said they are looking to acquire other airlines and incorporate them into the new holding company.
The relationship between the two airlines dates back 10 years, when BA acquired 9 percent of Iberia. The British airline currently holds 13.15 percent of the Spanish company, while Iberia has a 9.9 percent stake in BA.
Last week, pilots with Iberia, BA and American Airlines entered into a pact to protect their interests, saying it was necessary considering the "significant commercial agreements" among those three airlines.
Madrid-based Sindicato Español de Pilotos de Lineas Aereas-Iberia, the union representing Iberia pilots, noted in a Jan. 11 press release that the merger of Iberia and BA would enter into effect later in the month, while new routes stemming from a joint trans-Atlantic business alliance between the merged entity and AA will start in April.
Sepla said then that the mutuality agreement would allow the union and its counterparts at AA, the APA; and BA, the BALPA-BACC, to share information and develop a common strategy to ensure "a fair distribution of job opportunities among our respective pilot groups."