BBC World Service Cuts Jobs
Wednesday, January 26th 2011 - 23:42 UTC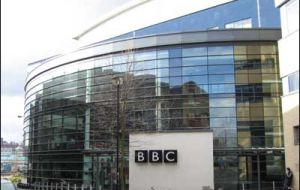 The British Broadcasting Corporation (BBC) will cut some 650 jobs, more than a quarter of the state financed entities 2,400 jobs, over the next three years.
The World Service broadcasts around the planet to an audience of millions in English and 31 other languages. It is one of the best known arms of the British Broadcasting Corporation abroad, notably in developing countries.
The job losses are part of a number of cost-cutting measures in response to a 16 percent reduction in World Service funding from the foreign ministry. In 2014, the World Service will switch to funding from the licence fee paid by viewers.
The reduced funding is part of the government's attempt to slash a record budget deficit approaching 11 percent.
"It's a sad day for all of our audiences around the world, who in some cases will have a reduced or will not have any BBC World Service at all," Peter Horrocks, Director of BBC Global News, told reporters.
Late on Tuesday the World Service said it would close five overseas services: In Albanian, Macedonian, Serbian, Portuguese for Africa and the English for the Caribbean services.
The organisation will also cease all radio programming in seven other languages, including Russian, Mandarin and Spanish for Cuba. It will focus instead on other kinds of content in these languages, such as online and television. In addition, the World Service will stop short-wave broadcasting of another six radio services, including in Hindi. About 18 of the 32 language services will be affected.
As a result, it expects its global audience to shrink by more than 30 million from the current weekly figure of 180 million.
"Clearly there is a risk to the reputation of the World Service and it's our job ... to sustain that reputation as much as possible, but there's clearly a risk," Horrocks said.
The cuts stirred debate in parliament. Labour lawmaker Denis MacShane, a former Foreign Office minister, told Foreign Secretary William Hague he was doing "in part what no dictator has ever achieved -- silencing the voice of the BBC, the voice of Britain, the voice of democracy, the voice of balanced journalism at a time when it is more than ever needed".
Hague responded that the BBC World Service was "not immune from public spending constraints". "Services that have become less well used because of the rise of local broadcasters or falling short-wave audiences sometimes have to close," he told parliament.