Lebanese Tycoon Najib Mikati Become's Prime Minister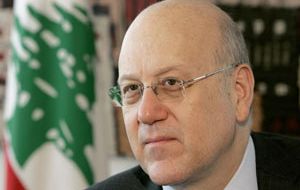 Self-made bilionaire Najib Mikati, attained the backing of enough members of parliament to be named Lebanon's premier. He is now faced with the challenges of repairing political and sectarian rifts, threatening to tear the country apart.
Mikati, a telecoms billionaire, emerged this week as the prime ministerial candidate for Iranian and Syrian backed Hizbollah, after the Shiite party toppled outgoing premier Saad Hariri's unity government earlier this month.
But anger is spreading among Sunni Muslims, who view Mikati as a Shiite-chosen candidate for the post, which is reserved in Lebanon's sectarian system for their community. Sunni protesters have been taking to the streets in increasingly violent protests against his likely appointment.
Mikati, a former prime minister, has a reputation as a moderate who enjoys good ties with neighbouring Syria. But his popularity lags behind that of Saudi and Western supported Hariri among Lebanon's Sunnis.
The 55-year-old says he is a candidate of consensus and has vowed to reach out to all parties.
The tall, clean-cut Mikati emerged as a leader in the wake of the murder of Rafiq Hariri, Lebanon's former premier, when he headed a three-month interim government in 2005.
The Hariri assassination had sparked off the worst political turmoil to grip Lebanon since the 1975-1990 civil war, provoking a wave of anti-Syrian rage among Lebanon's Sunni communities and protests that forced the resignation of Omar Karameh's Damascus-backed government.
Mikati stepped up and pledged to fire the public prosecutor and security officials in the aftermath of the killing. He thus secured the support of Lebanon's mourning Sunnis.
Within two weeks, he had formed a slim, 14-member government made up mainly of technocrats. Three months later he was succeeded by Fuad Siniora.
Mr Mikati, who hails from the Sunni bastion of Tripoli in north Lebanon, was first appointed minister of transport and public works in 1998. In 2000, he beat Karameh in a legislative vote, landing himself a seat in parliament while still serving in government.
He is a major shareholder in South Africa's telecom MTN Group, owns the M1 international investment holding group, the French fashion line Faconnable, and has major real estate investments.
Forbes magazine has estimated his net worth at $2.5 billion, making him one of Lebanon's richest men. He ties for rank 374 on the Forbes list of billionaires with his brother and business partner Taha.
Born on November 24, 1955, Mikati is a graduate of the American University of Beirut's business school and also studied at the prestigious universities of INSEAD and Harvard. He is married with three children.