United States Calls For Reform in Egypt
Wednesday, January 26th 2011 - 23:36 UTC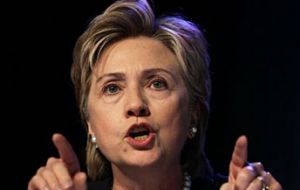 United States Secretary of State Hillary Clinton, has said that widespread anti-government protests over poverty and government repression in Egypt represent an opportunity for the 30-year administration of president Hosni Mubarak to implement "political, economic and social reforms to respond to the legitimate needs and interests of the Egyptian people".
In unusually blunt remarks regarding the longtime US ally, delivered on Wednesday, Clinton also said that the Mubarak government should not prevent peaceful protests or block social networking sites such as Twitter or Facebook, which have helped Egyptians plan and spread news about the unrest.
The Egyptian government has reportedly been doing both: Security forces continued to confront protesters with batons, tear gas, water cannons and rubber bullets on Wednesday night, and Facebook and Twitter have both acknowledged ongoing disturbances to their services in Egypt.
Protesters threw Molotov cocktails at police in Cairo, Al Jazeera's Dan Nolan reported from the capital, while similar petrol bomb attacks were reported in the eastern Red Sea port city of Suez, where three protesters died on Tuesday.
On one occasion in Cairo, a car pulled to a stop behind a police truck, but one of the occupants missed the truck with his throw and struck a nearby pillar, setting it alight. Some protesters in a crowd of around 100 at Egypt's foreign ministry also threw petrol bombs, Nolan said.
"The streets of Cairo behind me tonight are a very tense and a very chaotic and a very dramatic place to be," Nolan said.
In Suez, severe fighting was reported between police and protesters. A crowd used petrol bombs to set fire to a government building and attempted unsuccessfully to do the same to a local office of the ruling National Democratic Party.
Medical personnel in Suez reported on Wednesday night that 55 protesters and 15 police officers had been injured.
"Protesters throwing burning bottle bomb into one armored police car, setting it ablaze," read one tweet sent by Gamal Eid, the executive director of the Arab Network for Human Rights, who was in Suez.
"Police descends onto the streets and [are] not remaining impartial. [They have] injured about 30 protesters so far," he wrote in another.
In Cairo, protests were sporadic, but hundreds still took to the streets.
Around 500 people were protesting on the steps and roof of the lawyers union in central Cairo earlier, chanting anti-government slogans, with another 500 listening and watching from the street, Nolan said.
Thousands of riot police "flooded the street" and used batons to clear out the observing crowds whenever they came too close or grew too large, our correspondent said.
Lacking reliable access to social media, protesters have relied on word of mouth and mobile phones to coordinate their demonstrations, Nolan said.
Twitter confirmed that its services had been blocked in Egypt beginning at 6 pm local time (1600 GMT) on Tuesday, while Jillian York, who oversees the Herdict web monitoring service at Harvard University, said that Egyptian Facebook users confirmed to her that the website was blocked.
Facebook, however, said it had not recorded "major changes" in traffic from Egypt.
"[Protests are] certainly not in the numbers we saw yesterday," Nolan said. "There was a reasonable amount of tolerance shown for these rallies yesterday. But today it is virtually a zero-tolerance police from the Egyptian security forces."
Hundreds of protesters have been arrested since a planned "day of anger" on Tuesday set off country-wide demonstrations; the interior ministry said it had detained 860 and promised that no protests will be tolerated. Three protesters in Suez, an eastern Red Sea port city, died on Tuesday, and one policeman in Cairo was also killed.
The White House said it was monitoring the situation in Egypt "quite closely," but unlike Clinton did not call for reform. Robert Gibbs, a spokesman for president Barack Obama, told reporters on Wednesday that the government should "demonstrate its responsiveness to the people of Egypt" by recognising their "universal rights."
Asked whether the United States still "backed" Mubarak, Gibbs said only that "Egypt is a strong ally."
Amr Moussa, the secretary general of the Arab League, said that he believes "the Arab citizen is angry, is frustrated."
"That is the point," he said. "The name of the game is reform."The Egyptian government appeared uneager to make any concessions, as it continued to send security forces into the streets of Cairo and Suez to break up protests on Wednesday night.
But prime minister Ahmed Nazif, in a statement to a state news agency earlier in the day, did say that the country's leadership was committed to allowing freedom of expression "by legitimate means."
On Wednesday evening, thousands of demonstrators were spread throughout downtown Cairo after being dispersed by security forces. Many had gathered on Gelaa Street, near central Tahrir Square - the site of a violent early morning confrontation between security forces and protesters who had been planning to sleep the night in defiance of the government.
Police fired tear gas and broke up concrete to use as rocks to throw at protesters and "egg them on," Al Jazeera's Adam Makary reported.
Protesters lit a fire - possibly by burning a tyre - in the middle of a nearby street and were pelting police officers with stones, Al Jazeera correspondent Rawya Rageh said.
Around 500 protesters had been arrested over the past 24 hours in an effort to clamp down on the public unrest, the interior ministry said in a statement. The ministry had said earlier on Wednesday that new demonstrations would not be allowed.
In Mansoura, a working-class down north of Cairo in the Nile Delta, blogger Mohamed Hamama said the police had been "very aggressive" during protests.
"Major arrests have occurred, they are now being interrogated, a lot of people have either been injured, beaten up or exposed to tear gas," he said.
"I think more and more protests will be staged. Many refuse to stop till they receive a good standard of living."
The government on Tuesday officially blamed the Muslim Brotherhood, Egypt's technically banned but largest opposition movement, for fomenting the protests.
The Brotherhood had earlier said that it would not officially participate in the January 25 protests, and it denied the government's accusation.
With just eight months to go before a presidential election that could see the ailing Mubarak run for re-election or attempt to hand power to a successor, protesters in Egypt were demanding solutions to the country's grinding poverty and an end to onerous emergency national security laws in place since the 1981 assassination of Mubarak's predecessor, Anwar Sadat.
Mubarak, 82, has not appointed a deputy since he became president and is widely thought to be grooming his son Gamal to succeed him.
"Down with Hosni Mubarak, down with the tyrant," chanted the crowds. "We don't want you!" (Al Jazeera )