United States House Prices Drop for the Fifth Consecutive Month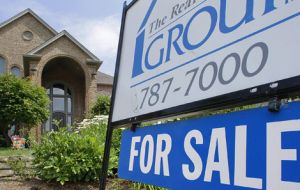 United States family home prices, fell for a fifth straight month in November and could reach new lows soon, a closely watched survey showed on Tuesday.
The Standard & Poor's/Case-Shiller composite index of 20 metropolitan areas declined 0.5% in November from October on a seasonally adjusted basis, though it was not as sharp as the 0.8% fall expected by economists.
Prices have fallen 1.6 % in the past year, sharper than the 1.4 % which had been predicted.
Sixteen of the 20 cities showed annual price declines in November, while 19 of 20 cities showed monthly price drops.
The housing market has been struggling since home-buyer tax credits expired earlier this year. To take advantage of the tax credits, buyers had to sign purchase contracts by April 30th.
"With these numbers, more analysts will be calling for a double dip in home prices," said David M. Blitzer, chairman of the index committee at Standard & Poor's. Blitzer defined a double-dip as both the 10 and 20-city composite indices setting new post-peak lows.
He noted that the 10-city index is 4.8 % above its April 2009 low while the 20-city index is just 3.3 % higher than its low that same month.
Unadjusted for seasonal impact, the 20-city index fell 1.0 % in November after a 1.3 % decline in October.
The coastal cities of California and the nation's capital were the only apparent bright spots in October's report. In November, only four metro areas - Los Angeles, San Diego, San Francisco and Washington, D.C.- showed year-over-year gains. Every city declined from October to November besides San Diego, which eked out a 0.1% gain.
Other recent home-price measures show the Golden State's real estate market eroding. The Case-Shiller index, created by economists Karl E. Case and Robert J. Shiller, is widely considered the most reliable on home prices.
The index compares the latest sales of detached houses with previous sales and accounts for factors such as remodeling that might affect a house's sale price over time.
Adjusted for seasonal factors, the index painted a similar picture, falling slightly less, down 0.5%. Standard & Poor's has warned that such an adjustment lately has distorted the index because of the huge number of foreclosures.