FAO, IMF anticipate more civil unrest and protests because of soaring food prices
Monday, January 31st 2011 - 21:30 UTC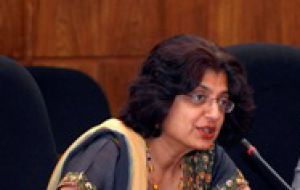 North Africa and Middle East civil unrest can be expected to spread to several other countries if as anticipated the FAO Food Prices Index for January 2011 confirms the December 2010 tendency when the "basket" of food staples reached a new peak.
FAO in the coming days is expected to release its monthly Food Prices Index, which measures the changes in price of food staples, like wheat, sugar, dairy products, cooking oil, and meat. December 2010 was the highest index score on record, surpassing June 2008 when riots over high food prices broke out in several countries around the world.
According to FAO sources the January 2011 Index may be very near the December 2010 record peak.
Arab and Western commentators have noted that the high price of food staples contributed to the overall feeling of discontent in Tunisia which triggered a rash of protests across the region from Algeria to Yemen and which have become particularly defiant and demanding in Egypt where the situation apparently remains out of control. Reading the writing on the wall the Algerian government put in a huge rush order of wheat.
This is not to say this is the only cause of the civil unrest in Egypt, Tunisia, Jordan, Yemen or even as far east as Indonesia, but these questions of political economy really cannot be ignored when trying to understand the protests across the Middle East and North Africa. If this trend in the Food Prices Index continues, it is not unreasonable to expect that civil unrest will spread to several other countries.
"New developments in the region and the global economy will pressure the fiscal accounts and this is one of the main challenges facing the region" said Ratna Sahay deputy director of IMF Middle East and Central Asia Department.
"Oil and food prices have gone up dramatically. In the last two quarters of last year the IMF Food Price Index rose 30%. Grain went up 60% and oil prices have surpassed IMF forecasts of 78 US dollars per barrel", said the IMF official during a recent conference in Cairo.
Sahay said that rising prices coupled with regional social tensions across the Arab world will mean that spending on subsidies and social welfare will expand.
The problem is augmented by the fact that price shocks eventually feed into inflation, and "average inflation will go up in the region by several percentage points". Food prices alone rose by 16% at the end of last year according to the IMF official for Middle East and Central Asia.