Paraguay supports Colombia's bid to join Mercosur
Monday, January 31st 2011 - 20:41 UTC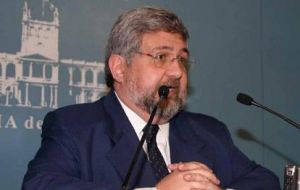 Colombia's request to formally join Mercosur will be addressed during the group's next summit to be held in Paraguay June 24th, revealed Paraguayan Foreign Affairs minister Hector Lacognata.
The announcement follows on reports from the Brazilian press last week indicating that Colombia is interested in belonging to the growing South American regional group.
Interviewed during the weekend Lacognata underlined the significance of having new members in Mercosur since "the current four-country format is harmful for the group's smaller members" such as Uruguay and Paraguay.
"At the next summit in Asuncion in June the issue will be in the agenda when the formal request will be presented and its administrative consideration process begins" said Lacognata.
The Paraguayan minister said Colombia's request was significant not only because of the merits of expanding Mercosur, "but above all because the incorporation of more countries will necessarily generate a new internal correlation of forces that should favour members such as Uruguay and Paraguay".
Mercosur currently has four full members, Argentina, Brazil, Paraguay and Uruguay, two associate members Bolivia and Chile, and Venezuela that is in the process of becoming a full member.
"The ideal is to have more countries incorporated".
Regarding Venezuela's membership that has been stalled by the Paraguayan congress, Lacognata said that legislative branches have their own codes and the way issues finally reach a consensus and are approved.
"But if you ask me personally I would say the ideal is to have Venezuela and Colombia inside and have other countries incorporate" added the minister who insisted that for Paraguay, "this is most healthy; it has been one of the main arguments I have constantly used it in support of Venezuela's incorporation to Mercosur, and consequently I believe in the membership of Colombia, both of which will benefit Paraguay".