Tourists Leaving Egypt as Tourism Hit Hard
Monday, January 31st 2011 - 01:40 UTC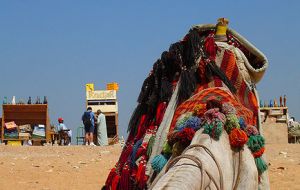 The United States and Turkey on Sunday offered to evacuate people wanting to leave Egypt where violent protests have taken place.
Other governments advised their citizens to leave the country or avoid travelling there if possible, although Russian and German tourists at Red Sea resorts made no move to cut short their holidays.
Witnesses said some businesses were starting to evacuate their staff and reported scenes of chaos at the airport, where many people, including Egyptians, were trying to fly out.
"The US embassy in Cairo informs US citizens in Egypt who wish to depart that the Department of State is making arrangements to provide transportation to safe haven locations in Europe," the statement said, describing the evacuation as voluntary.
National flagship airlines including Turkish Airlines, Lufthansa and Air India said they would dispatch additional planes to Egypt to bring home citizens stuck in Cairo and Alexandria.
Britain hardened its advice to Britons, advising them to leave Cairo, Suez and Alexandria "where it is safe to do so".
http://www.reuters.com/places/germany Germany's Federal Foreign Office was advising against trips to major cities but excluded the Red Sea holiday regions from its advisory.
European tour operators and airlines have cancelled trips to Cairo, dealing a blow to a tourism industry which provides about one in eight jobs in the country beset by high unemployment.
In the residential area of Cairo, two big buses were parked outside the offices of the Italian oil firm ENI to evacuate families, witnesses said. One foreign employee of the company said his wife and three children would go but he would stay. There was no immediate comment from ENI.
"It's not an issue during the day, it's at night when we don't know what will happen," the employee said.
Near the buses was a four-wheel-drive vehicle with security men. Several foreign families were waiting to board the buses.
China issued a warning to its citizens in Egypt, urging Chinese travellers to reconsider their plans or seek assistance from the Chinese embassy. Most of the estimated 40,000 Russianshttp://www.reuters.com/places/russia holidaying in Egypt, mostly in resorts around Khurgada and Sharm-El-Sheik, have no plans to cut short their trips despite the demonstrations, the acting head of the Russian Federal Tourism Agency, Alexander Radkov, told Interfax news agency on Saturday.
"On the whole, the situation in Egyptian resorts remains calm. Tourists are resting normally. We have no worries about them so far ... People do not want to interrupt their holiday," he said.
TUI Deutschland, the German arm of TUI Travel, said cancellations and rebookings of trips to the Red Sea coast had so far not increased, and tourists already in Egypt had not asked to return home early.
Tour operator Thomas Cook flew a fresh batch of tourists to the Red Sea coast from Germany on Sunday, a spokeswoman for the company said.
"Our guests are doing fine. And none of them have said they want to come home now," she said.
Egypt's tourism industry, which generates more than 11 percent of the country's GDP, took a hit in 1997 when gunmen killed 58 tourists and four Egyptians at an ancient temple in Luxor and after the September 11, 2001, attacks.
Decreases in tourist levels have so far always been temporary, though, and the industry's trend over the last decade has been broadly upward.
Meanwhile, locals who make a living from visitors are suffering.
"I have never seen anything like it in my life," said Shampa, owner of a perfume shop and a camel, he rents out to tourists at the pyramids.
"I haven't had any customers for a few days. Only a couple of tourists came here today, but they left as soon as they saw everything was shut," he added, saying he can't even earn enough money to feed his camel.
Shampa is speaking from next to the pyramids, in the middle of a huge car park, which is completely empty. Usually buses bring hundreds or thousands of people to visit one of the world's great tourist attractions.
Just down the road, four tanks and numerous armed soldiers are blocking access to the pyramids. A photographer who tries to take their photograph, with the pyramids in the background, is told they will confiscate his camera if he does.
For the tourists who are stuck in hotels in Cairo, the only thing they can do is leave the country. However, they are having serious problems getting to the airport because of the traffic and above all the curfew. Many passengers who have early morning flights prefer to spend the night in the airport, as they are also concerned about staying in Cairo at night because of the looting.