Polar Star cruise assessing damage after grounding accident off Antarctic Peninsula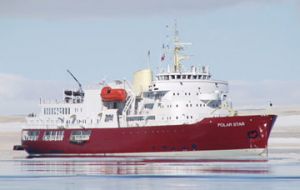 Cruise vessel MV Polar Star with 115 people on board was temporarily grounded Monday morning off the Antarctica peninsula but managed to free itself with no injuries reported and no fuel leaks according to the Argentine Navy.
The Barbados flagged vessel had left last week from Ushuaia, Tierra del Fuego with 80 passengers and 35 crew members for a ten day Antarctic cruise and was scheduled to return February 6th.
According to the Argentine Navy Search and Rescue Centre there are no major details as to how the accident occurred besides the fact that it happened early Monday in the Matha Strait, north of 67 South, west of the Antarctica peninsula.
Apparently the cruise vessel ran onto a non chartered rock but managed to pull itself free with no major consequences because of its double hull.
Any rescue or salvage operation is now in the hands of the Search and Rescue coordination centre in Punta Arenas, Chile, in the framework of the Argentine-Chilean Joint naval Antarctic Patrolling.
According to the latest reports, the situation on board the Polar Star is described as stable. There is no danger for passengers and crew, at the moment.
Apparently it was Polar Star Expeditions that first reported the incident to Argentine naval authorities. The company has been organizing Antarctic cruises since 2001.
According to the company's site MV Polar Star was built in Finland and served in the Swedish Maritime Administration's fleet of icebreakers under the name of Njord. In 2000 she was purchased by Polar Star Expeditions, a company of Karlsen Shipping, and underwent complete retrofit and upgrades. She was renamed M/V Polar Star after her namesake that served Karlsen's Arctic cruise program.
Today the ship is operated by Polar Star Expeditions formed in 2000. Karlsen Shipping, the parent company is an old Norwegian family business originally from the north-western coast of Norway and now headquartered in Halifax, Canada. With over 100 years experience in many aspects of the marine industry, Karlsen has operated primarily in the Polar Regions.
Polar Star Expeditions describe the vessel as "one of the safest and comfortable ice class vessels with safety standards exceeding requirements for several years to come". The ship is certified for worldwide international voyages, complying with the latest SOLAS and IMF regulations for safety and the environment.
"We take up to 105 passengers on expedition cruises that by definition are to remote destinations. For shore excursions, we are equipped with 10 16-man zodiacs. The M/V Polar Star is large enough to voyage to remote areas in comfort and small enough to enter out of the way destinations that other vessels can only sail by. We explore nature's most breathtaking wonders up close and our voyages offer magnificent wildlife on a journey that is spirited with adventure".
The vessel is Class Ice 1A, 86.5 metres long; 21.2 m beam; 6.2 m. draft and a tonnage of 3.500 GRT with a cruising speed of 11 knots.