Castro tells bureaucrats to end waste, improvisation and listen to people's concerns
Wednesday, February 2nd 2011 - 14:30 UTC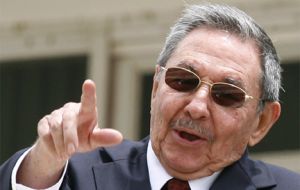 President Raul Castro called on the Cuban government to eliminate waste and provide more efficient and improved quality services while keeping "feet and ears on the ground" to closely listen to Cubans concerns regarding the economic reforms recently put into practice.
Castro made the request at an extended Jan. 28-29 meeting of the Cabinet, State Council, Communist Party, attorneys, magistrates and authorities from the country's fifteen provinces, reported the government daily Granma on Tuesday.
The president said that the greatest contribution that can be made to the nation's economy at this time is to eliminate waste, not by cutting services but by making them better and more efficient.
Granma reported that Raul Castro also asked authorities to keep "feet and ears to the ground" so as to listen to Cubans concerns over the economic reforms, "which are new and therefore we must pay the greatest attention".
The Raul Castro government is implementing a reforms program with the purpose of "modernizing and updating the Socialist economic model" helping to overcome the island's economy chronic failures following on his dramatic appeal a few weeks ago: "we're walking on a cliff and if we don't change rapidly and efficiently it's all over".
The draconian measures include expanding private employment through small enterprises and cooperatives and thus eliminating 500,000 state jobs in three months, putting an end to "unnecessary" subsidies, applying a new tax system and making the real estate market more flexible promoting property over small family farms, among others.
The package also targets rampant absenteeism, cronyism, petty every-day corruption, the black market and other practices in a government bureaucracy managed economy that only spells shortages and is on the verge of collapse.
"What we need most now is to help the economy by eliminating waste, which does not mean eliminating services but rather making them more efficient and quality-oriented", insisted Raul Castro. He also called for an end to "improvisation" by government officials regarding investment projects which are implemented "without feasibility studies and ignoring contracts".
"We will also apply more severe administrative and criminal sanctions to put an end to the extended network of stealing from government companies and institutions that feed onto the black market", anticipated the Cuban president.
The economic reforms are expected to be ratified at the 6th Congress of the Communist Party of Cuba, which will be held in mid-April.