'Lex Duvalier' enables Switzerland to confiscate and repatriate illicit dictator assets
Wednesday, February 2nd 2011 - 16:39 UTC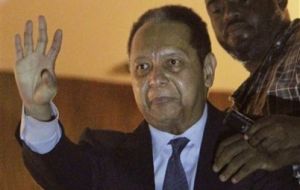 Switzerland has moved to confiscate frozen assets linked to former Haitian dictator Jean-Claude Duvalier. The Swiss cabinet asked Finance Minister Eveline Widmer-Schlumpf to begin proceedings to seize around 6.2 million US dollars that has been frozen in Swiss bank accounts since 1986, with a view to returning the funds to the Haitian people.
It follows the entry into force on February 1 of a new Swiss law on returning illicit dictator assets. The law was tailor-made to move the Duvalier assets case forward and is known as Lex Duvalier. The new law eases the rules for confiscating illegal assets of political leaders and repatriating the money.
Under the law, the Swiss cabinet can block contentious assets and will have up to ten years to launch action to confiscate the assets once they have been blocked. The confiscation of assets must be ordered by Switzerland's Federal Administrative Court.
"The Swiss government, which has worked to find a solution for the restitution of the Duvalier money to the Haitian people, has used the powers conferred by the restitution law to take this case to court," the government said in a statement.
If the Duvalier family wants the funds released they will have to prove to the Federal Administrative Court that the funds were obtained legally.
In an interview with the Spanish-language television channel Univision on Tuesday, Duvalier said the frozen funds belonged to a foundation and if released, "most" would be used to rebuild the town where his mother was born.
The Swiss Restitution of Illicit Assets Act was basically enacted to help overcome existing hurdles with states that have no mutual legal assistance partnership with Switzerland or with troubled nations that are incapable of criminal proceedings at the national level, according to the Swiss Foreign Ministry.
For example it as been a quarter-century since Duvalier fled Haiti, but the government has not brought him to trial.
For a judge to order restitution, a government must prove a discrepancy between the wealth of a "politically exposed person" and his or her earnings, along with high levels of corruption in that country.
Enrico Monfrini, a Switzerland-based lawyer who has been representing the Haitian government in a long and drawn out legal battle over Duvalier's cash, said the law was drafted very quickly.
He said Duvalier's 6.2 million in Swiss banks is not a large amount compared with the hundreds of millions the former leader allegedly stole, but morally, repatriation of the money would be a huge victory.
"This money will go back to Haiti for sure," Monfrini said. "It will never go back to Duvalier."