Uruguay will officially recognize a Palestinian state next March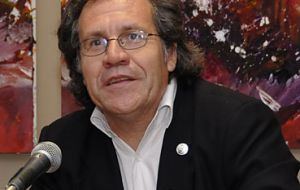 Uruguay will officially recognize a Palestinian sovereign state next March but will not announce position regarding borders said Foreign Affairs minister Luis Almagro addressing the Legislative standing committee.
Almagro was summoned to the committee by members of the opposition who questioned the government's lack of a consultation process with Parliament and the communities involved (Palestine and Israel) on such a delicate matter and warned about "pressuring" Israel on the "borders' issue".
Opposition Senator Alberto Heber said his political group was willing to accept friendly relations with Palestine, but rejected the idea of diplomatic relations. He supported his position saying that United Nations Resolution 181 declares the right of existence of Israeli and Palestinian states, but Arab countries "never accepted Israel's right of existence".
Senator Heber who convened the minister, said the fact Uruguay has decided to establish diplomatic relations with a Palestinian state is "disturbing" for the local Jewish community, as well as the recent visit of a delegation of mostly ruling coalition lawmakers to Iran, allegedly to increase trade and political links.
The opposition Senator also criticized the government Uruguay for having announced the recognition of a Palestinian state following on Brazil and Argentina, "does Uruguay not have its own foreign policy?"
And "what Palestinian state are we to recognize? Gaza and the West Bank?, What borders? Are we going to be involved in that political discussion?"
Minister Almagro agreed with the suggestions from Heber and said Uruguay will recognize the new Palestinian state but "without taking sides on the (borders) political litigation" which has its "own negotiation logic".
Furthermore "we are not going to break relations with Israel because we recognize a Palestinian state, relations with Israel are a priority and paramount for Uruguay".
Almagro added that the decision regarding a Palestinian state recognition had been anticipated months before Brazil and Argentina's decisions, by President Jose Mujica in his daily radio program, "we have our own foreign policy course".
He also indicated that over 120 countries have already officially recognized a Palestinian state, with the only South American countries waiting, Uruguay and Colombia.
Insisting on the borders issue, he anticipated the March declaration will be most careful since a 'given territory' is not the same as 'given borders', and "this could even lead to recognition problems with China and Vietnam, Bosnia and Slovenia"
Heber also attacked the government on its Iran policy arguing that the Uruguayan Jewish community concerns are "understandable and most valid" given the "strengthening of relations with Teheran".
"The ruling coalition and the administration has a double speech since at home they consider themselves champions of human rights issues while its lawmakers meet with Iranian president Mahmoud Ahmadinejad, whose regime has no respect at all for human rights or basic gender considerations" underlined Heber.
"Worse even the Iran regime has been linked to the (1994) Jewish community bombing in Buenos Aires that left hundreds dead, injured and maimed for life".
Almagro a former ambassador in China and Iran called for leaving aside what he defined as "trans-cultural misgivings" regarding relations with Teheran which is a strong trade partner of Uruguay.
Finally Senator Heber said he was looking forward and 'hopefully' to the March declaration on a Palestinian state: "as soon as it arrives to Parliament we are going to read the resolution with utmost care and hope we can coincide".