Armoured helicopter to combat organized crime in Rio do Janeiro
Friday, February 4th 2011 - 23:29 UTC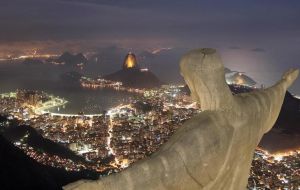 The Brazilian city of Rio do Janeiro, host of the Olympic Games in 2016 presented on Friday its new weapon to combat organized crime and drug dealers that have control over urban shanty towns: an armoured US manufactured Bell Huey II helicopter which can transport 13 troops and two crew members.
On making the official presentation in the neighbouring city of Niteroi, across the bridge from Rio, a top officer from the Military Police said the helicopter could stand calibre 7.62 shots and machine gun fire and has the necessary equipment for night operations and 50 hours air autonomy.
"The helicopter can also be used for search and rescue operations and is used for this purpose by the US Air Force, the New York Police and Colombian forces. A lighter version also is on service in Argentina, Peru and Dominica Republic" pointed out Lieutenant Colonel Miguel Francisco Ramos.
The spokesperson for the Rio do Janeiro Military Police Colonel Lima Castro said that four pilots received special training in the US during two weeks to become acquainted with the armoured helicopter. Operations with the new incorporation are set to begin "when we receive the authorization from the federal government in Brasilia" indicated Ramos.
Rio do Janeiro forces have lost at least two helicopters while patrolling the famous 'favelas' surrounding the city and many under control of heavily armed drug gangs. Only last month a television helicopter had to make an emergency landing after been shot from the ground.
The federal government has promised Rio do Janeiro funds and equipments to clean the favelas of organized crime and gangs ahead of the 2014 World Cup and 2016 Olympics. At the end of last year the Brazilian Army was called in to clear one of the hubs of drugs distribution. Light armoured vehicles and elite troops with air support were used during the week long operation.