Paraguayan congress puts price to Venezuela's Mercosur incorporation
Saturday, February 5th 2011 - 03:40 UTC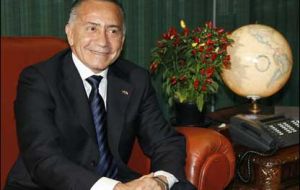 The Paraguayan political system is willing to consider the incorporation of Venezuela to Mercosur as a full member if there is a "significant gesture or compensation" from the government of President Hugo Chavez, according to congressional sources in Asunción.
This could involve Paraguay's oil bill with Venezuela which currently amounts to approximately 400 million US dollars.
The Paraguayan congress is the last hurdle for Venezuela's full membership since the three other legislatives (Argentina, Uruguay and Brazil) have supported the proposal originally requested by President Chavez in 2006.
Last December Paraguayan president Fernando Lugo had worked out an agreement with the senior partner of the ruling coalition and an opposition group that mustered the sufficient votes in the Senate for the approval in exchange for posts in the administration, Judiciary and Electoral courts.
All was ready to be voted following on the Brazilian argument that it was better to have President Chavez 'inside' than 'outside' and that Venezuela could act as a counter force to the overwhelming influence of Argentina and Brazil inside Mercosur.
However it was also leaked to the press that the head of the opposition group, Lino Oviedo and the president of the Liberals, Blas Llano would be splitting a 12 million US dollars 'prize' deposited in an Argentine bank if the vote went ahead.
Following the exposure and party resignation threats from several members of both groups, the issue was left to be considered during congressional recess.
Now, however a few weeks later, the issue is back on the table and Oviedo was quoted saying that if it involves an interesting offer or compensation that benefits Paraguay, his party is willing to support Venezuela's Mercosur incorporation.
According to the Asuncion press, in that context President Lugo in considering different compensation options to be discussed with the administration of President Chavez, among which stands out the pending oil bill of 400 million US dollars with the Venezuelan government.
"With such a compensation for the benefit of the people of Paraguay, we would be willing to give our approval", said political sources close to Oviedo.
Asked about the alleged political negotiations, a Liberal member of Congress Pedro Rodriguez said that the Executive remains very much interested in having Venezuela join Mercosur, but "I'm not aware of negotiations that could be taking place, much less their content".