German cadet death that triggered "mutiny" in training ship was "unfit for duty"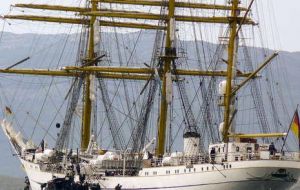 The 25-year-old female cadet who died after falling from rigging on the German training ship Gorch Fock was unfit for duty because of her weight, according to German media reports on Tuesday.
Sara Lena Seele, whose death in late November set off what has been called a "mutiny," was overweight and should not have been ordered to participate in the climbing exercise on the mast, according to a navy investigative report cited by daily Bild.
The report said that Seele's height-weight proportion – she was 1.58 meters and weighed 85 kilos (5'2", 187 lbs.) - should have excluded her from strenuous duty on board ship.
Why the cadet's massive weight gain before her transfer to the Gorch Fock was not taken into consideration by her superiors is also being investigated.
The three masts vessel was sailing off the coast of Bahia, Brazil when the accident happened.
Chief prosecutor Birgit Hess from the Kiel prosecutors' office confirmed to the official German Press news agency that Seele's fitness for duty was now a part of its investigation and that it was in close contact with the Defense Ministry. The German navy's press office refused to comment on the matter.
The Gorch Fock, a tall ship that was once the pride of the German navy, has been the centre of allegations of bullying, sexual harassment and the all-around bad behavior of its officers, who reportedly spent much of their time on the ship sunbathing and partying.
On Sunday January 31 the Gorch Fock left the Argentine port of Ushuaia for its journey back to northern Germany, which is expected to take around three months.
Following the "mutiny" German Defence Minister Defence Minister Karl-Theodor zu Guttenberg suspended the captain, Commander Norbert Schatz, who reports said was often to be seen on board in swimming trunks.
Commander Schatz was ordered to fly home and the ship set sail under the command of a replacement captain.
The father of another female cadet on the Gorch Fock who fell overboard and drowned in 2008 has called for a new probe into the accident.